D6K2 Track-Type Tractor
D6K2 Track-Type Tractor
Get A Quote
The new D6K2 dozer is smarter and more efficient than ever. It comes equipped with standard Grade technologies like Slope Assist to make it easier for even less experienced operators to get more quality work done in less time. But intelligence is only part of the package – Eco Modes and a new power train deliver up to 17 percent more fuel efficiency, while providing superior maneuverability, faster steering response and greater capability to utilize full blade loads. This dozer also retains its optimal balance and undercarriage design for outstanding performance in finish grading applications. The D6K2 meets Tier 4 Final/Stage IV/Korea Tier 4 emission standards.
Engine
Engine Model

Cat® C4.4 ACERT™ with twin turbo

Flywheel Power

130 hp

Bore

4.13 in

Stroke

4.99 in

Displacement

268.5 in3

Emissions

U.S. EPA Tier 4 Final/EU Stage IV/Korea Tier 4

Engine Power – ISO 14396

160 hp

Engine Power – ISO 14396 (DIN)

157 hp

Engine Speed 1,850 rpm – Net Power

159 hp

Net Power – EU 80/1269/EEC

128 hp

Net Power – ISO 9249 (DIN)

130 hp
Weights
Operating Weight

29258 lb

LGP VPAT Blade

Operating weights: includes EROPS, A/C, lights, VPAT Dozer, transmission, drawbar, engine enclosure, 3-valve hydraulics, 100% fuel, Cat Comfort Series air suspension seat and operator. lb

Operating Weight – XL

29258 lb

Shipping Weight – XL

28651 lb

Operating Weight – LGP

30664 lb

Shipping Weight – LGP

30058 lb
Blades
Blade Type

*VPAT foldable blades have the same capacity and width as the XL/LGP VPAT blades.

LGP VPAT Foldable Blade Capacity

4.26 yd3

LGP VPAT Foldable Blade Width

10.5 ft

XL SU – Narrow* Blade width

12.0 ft

XL SU – Blade Capacity

VPAT, VPAT Foldable* yd3

LGP, VPAT – Blade Capacity

4.98 yd3
Service Refill Capacities
Fuel Tank

69 gal

Cooling System

7.9 gal

Final Drives (each)

4.9 gal

Hydraulic Tank

16.9 gal
Standards
FOPS

FOPS (Falling Object Protective Structure) meets ISO 3449-2005 Level II.

ROPS

ROPS (Rollover Protective Structure) offered by Caterpillar for the machine meets ROPS criteria ISO 3471:2008.

Brakes

Brakes meet the standard ISO 10265:2008.
Ripper
Each Additional Shank

75 lb

Maximum Penetration Force – LGP

10138 lb

Maximum Penetration Force – XL

9480 lb

Maximum Pry-out Force – LGP

37480 lb

Maximum Pry-out Force – XL

37480 lb

Pocket Spacing

35.3 ft

Shank Gauge

70.6 ft

Shank Section

58.5 × 138 mm (2.3 × 5.4 in)

Weight – with Three Shanks

1863 lb

Type

Parallelogram

Number of Pockets

3

Overall Beam Width

76.8 in

Beam Cross Section

165 × 211 mm (6.5 × 8.3 in)

Maximum Penetration – XL

14.2 in
Winch
Cable Ferrule Size (O.D. × Length)

220

Control

0.87

Maximum Bare Drum – Line Pull

50000 lb

Maximum Bare Drum – Line Speed

124 ft/min

Maximum Full Drum – Line Pull

26000 lb

Maximum Full Drum – Line Speed

230 ft/min

Overall Width

2.13 in

Rope Diameter (recommended)

0.75 in

Winch Drive

Hydrostatic

Winch Model

PA50

Oil Capacity

2.63 gal

Winch and Bracket Length

33.2 in

Winch Case – Width

29.1 in

Drum Diameter

8 in

Drum Width

11 in

Flange Diameter

18 in

Drum Capacity – 22 mm (0.88 in)

306 ft
Undercarriage
Width of Shoe – XL

22 in

Width of Shoe – LGP

30 in

Shoes/Side – XL

40

Track Gauge – XL

70 in

Track Gauge – LGP

79 in

Track on Ground – XL

104 in

Ground Contact Area – XL

5070 in2

Ground Contact Area – LGP

6912 in2

Track Rollers/Side – XL

8

Ground Pressure* – LGP

5.77 psi

Ground Pressure* – XL

4.44 psi

Grouser Height – LGP

1.9 in

Grouser Height – XL

2.2 in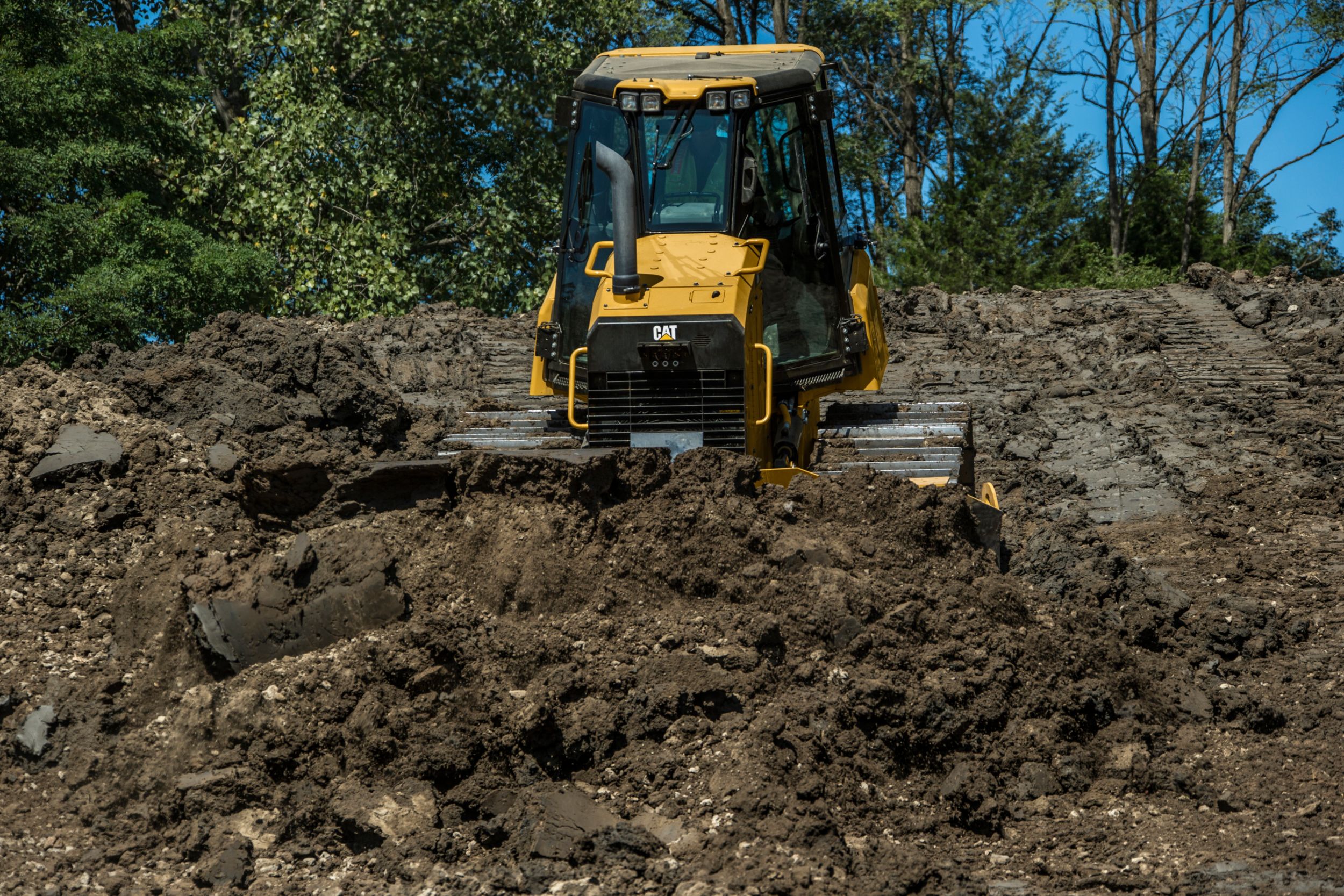 Power and Efficiency
Designed for performance
Powerful Drive Train
A Cat C4.4 ACERT engine with twin turbochargers is combined with a new hydrostatic transmission to give you improved fuel efficiency and the most power-dense drive train in its size class. The hystat transmission offers superior maneuverability, faster steering response and greater capability to utilize full blade loads.
Eco Modes
Eco Modes optimize engine speed, while maintaining ground speed, saving up to 17 percent fuel in lighter blade load applications like finish grading.
Reduced Idling
Efficiency features reduce engine speed when idling, or shut the machine down after a specified time, to further save fuel and meet idling regulations. Engine Idle Shutdown shuts down engine after pre-set time to reduce idling and help save fuel.
Traction Control
New automatic traction control is standard and automatically reduces track slip in poor underfoot conditions, improving productivity and finish surface quality.
Effective Cooling
Updated cooling package allows more air flow, reducing fan speed for greater efficiency. Hydraulic demand fan automatically reduces fan speed in cooler conditions to help save fuel. An optional hydraulic reversing fan offers automatic or manual modes for changing direction to blow debris out of the radiator cores.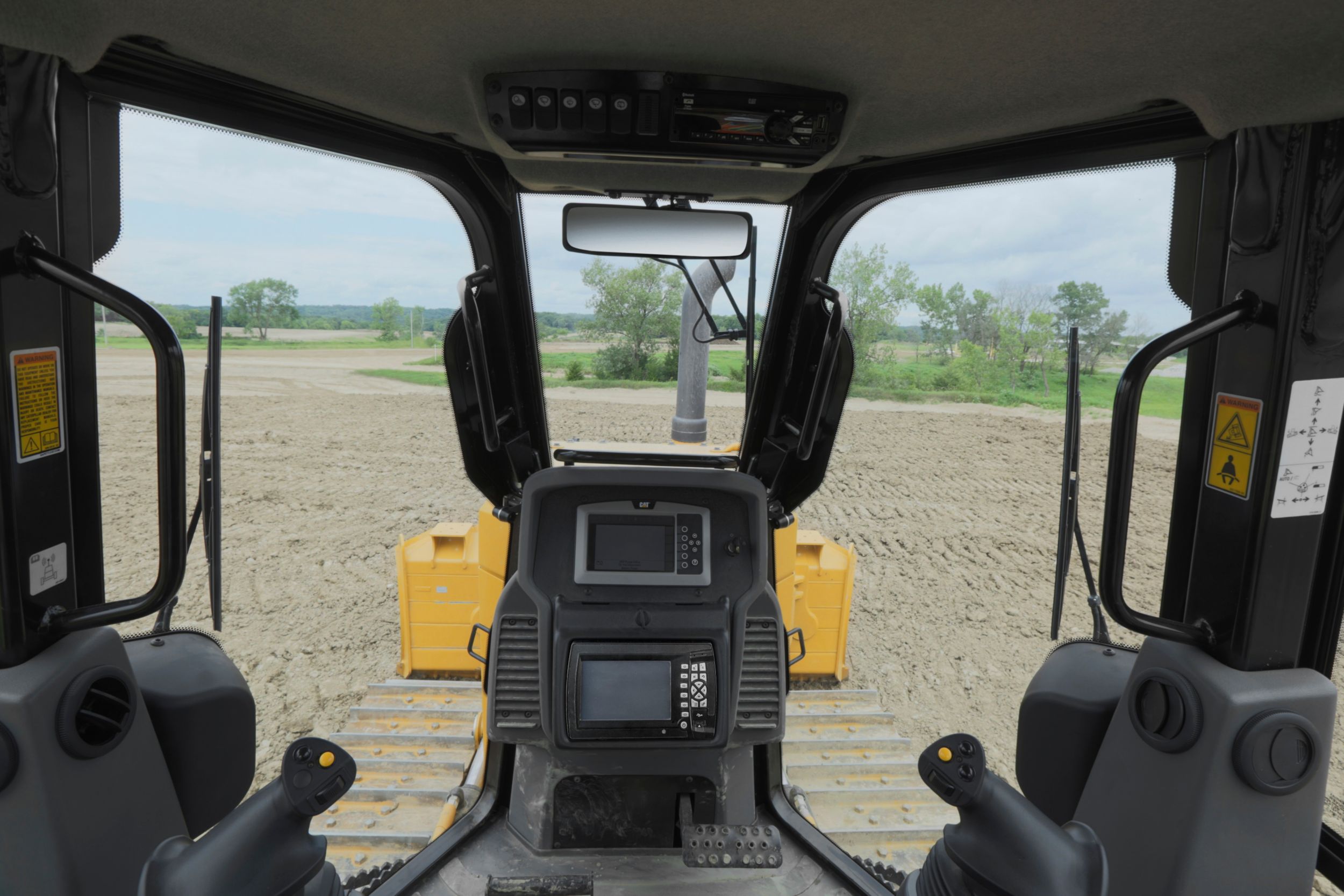 Operator Station
Comfort and Productivity
Spacious, quiet cab offers all-day comfort with wide door openings and an air suspension seat. Ergonomic, seat-mounted joystick controls isolate vibration. Excellent visibility to the blade, curbs and tight spaces help you work more precisely.
The new Liquid Crystal Display (LCD) is easy to read, enables Slope Assist, and is rear-camera ready so no additional monitor is needed.
Implement and Steering Controls
Single joystick for speed, direction and steering; includes thumb wheel for speed adjustment and traction control.
Dozer/implement controls give you 6-way control of the VPAT blade and allows power pitch adjustment. Blade shake feature helps shed sticky material.
Improved implement valve provides faster response. Intuitive, precise electro-hydraulic controls with sensitivity adjustment – fine, medium, coarse.
Rear vision camera (Optional) for enhanced visibility behind the machine.
Improved heating/ ventilation/air conditioning system cools faster; circulates air closer to the operator for more comfort.
New bi-directional control (Standard) – dial preselected forward/reverse gears for reduced effort and improved efficiency. Save the settings as operator profile for even more convenience.
Added comfort options like heated/ventilated seat and heated control handles.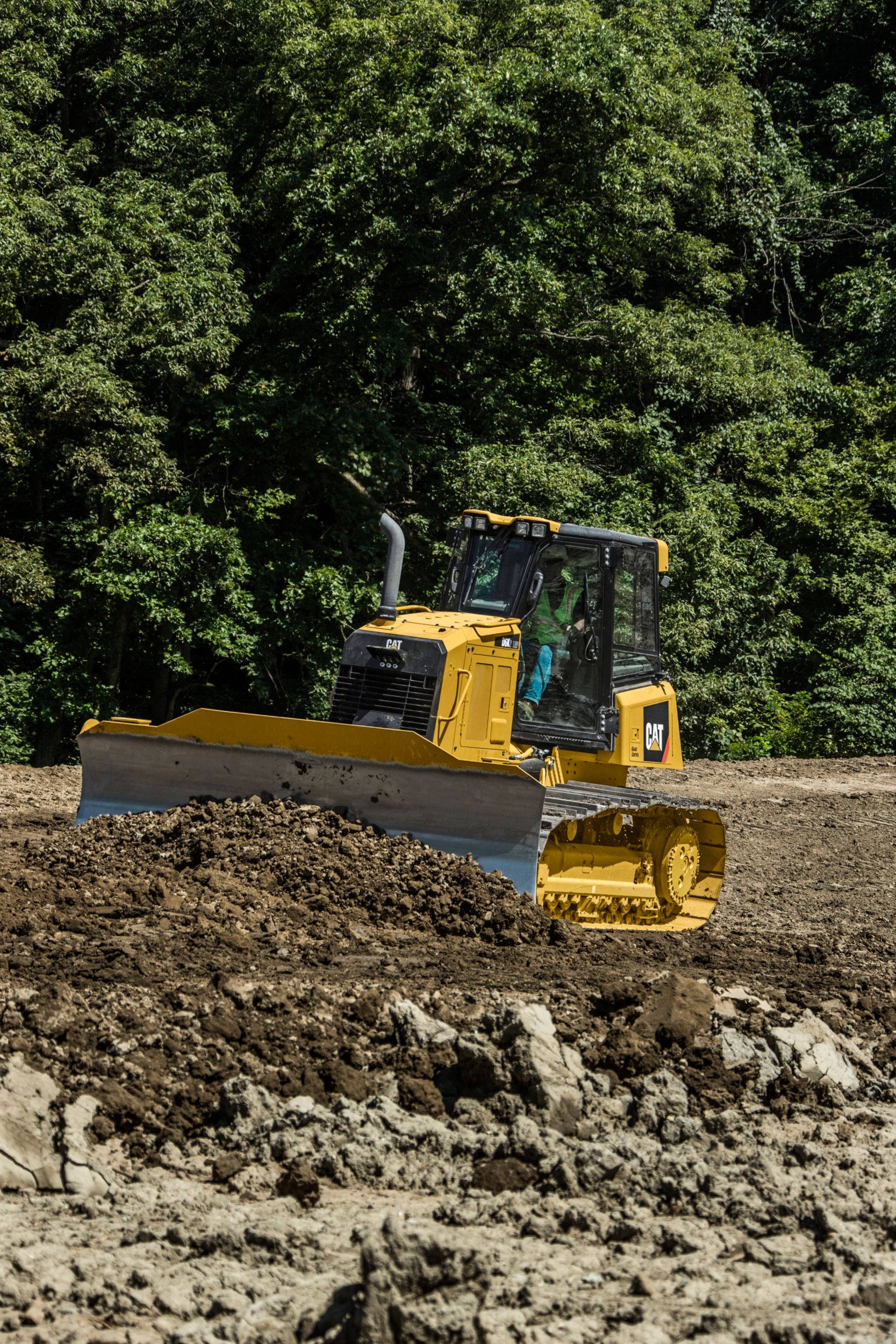 Ease of Operation
Intuitive and precise
Whether the D6K2 is a permanent part of your fleet or rented for the short term, operators will find this machine easy to operate.
Technologies like Slope Assist and Stable Blade are integrated right into the dozer to help even less experienced operators achieve a quality grade more quickly, and with fewer inputs.
Joystick controls are intuitive and precise.
Machine balance and undercarriage are designed for faster finish grading.
A rear vision camera is available to enhance visibility behind the machine.
Machine width and folding blade option allow for easy transport.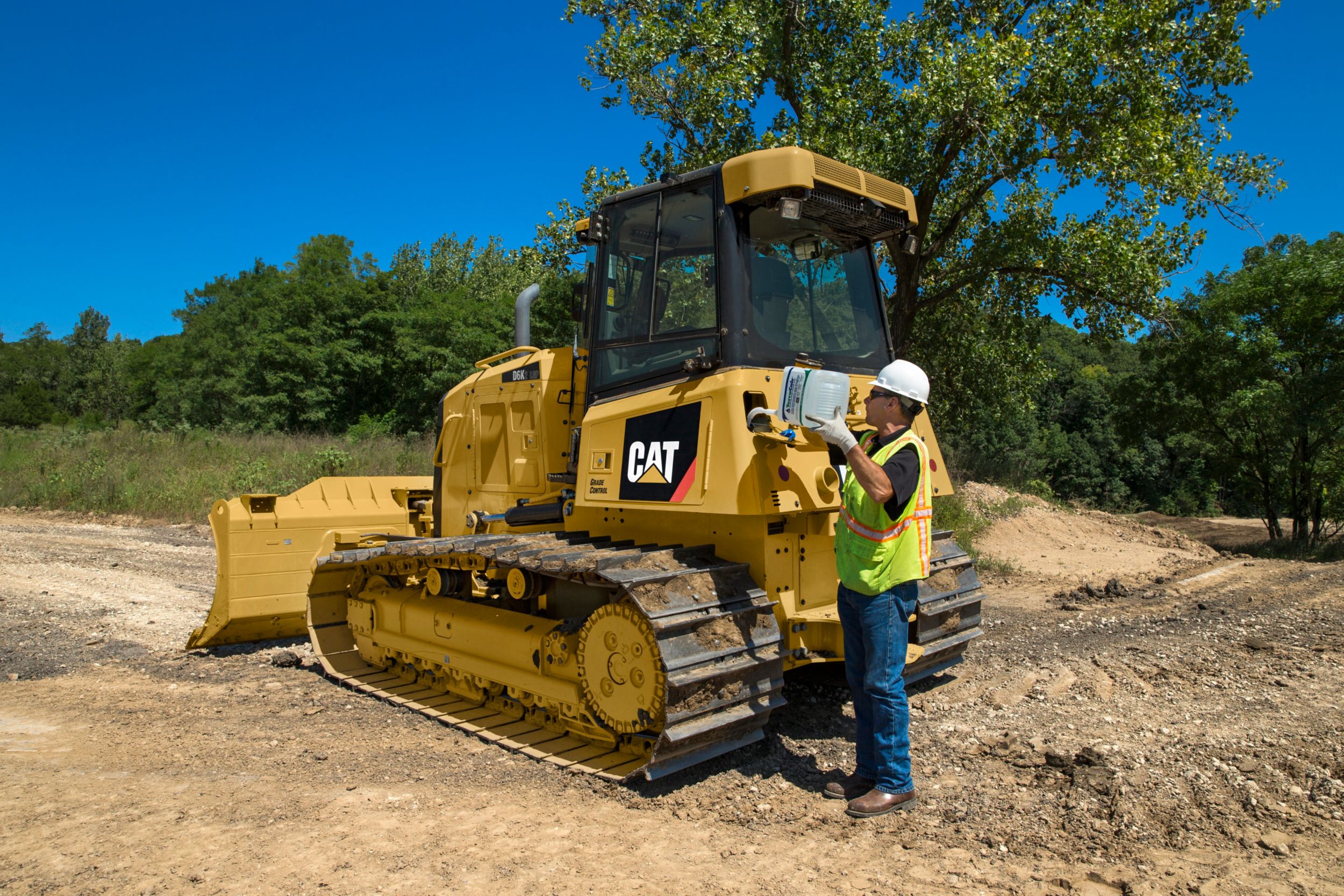 Emissions Technology
Proven, integrated solutions
Meets Tier 4 Final/Stage IV/Korea Tier 4 emission standards.
Emissions technology that is transparent – no action required from the operator, no stopping for regeneration.
Diesel Exhaust Fluid (DEF) use typically about 2.5 percent of fuel consumption – provides excellent overall fluid efficiency.
Diesel Particulate Filter designed for the life of the engine – no need to clean out.
Pump automatically purges DEF lines to help prevent freezing.
When refilling Diesel Exhaust Fluid, a tone will sound (with key on) when tank is nearly full.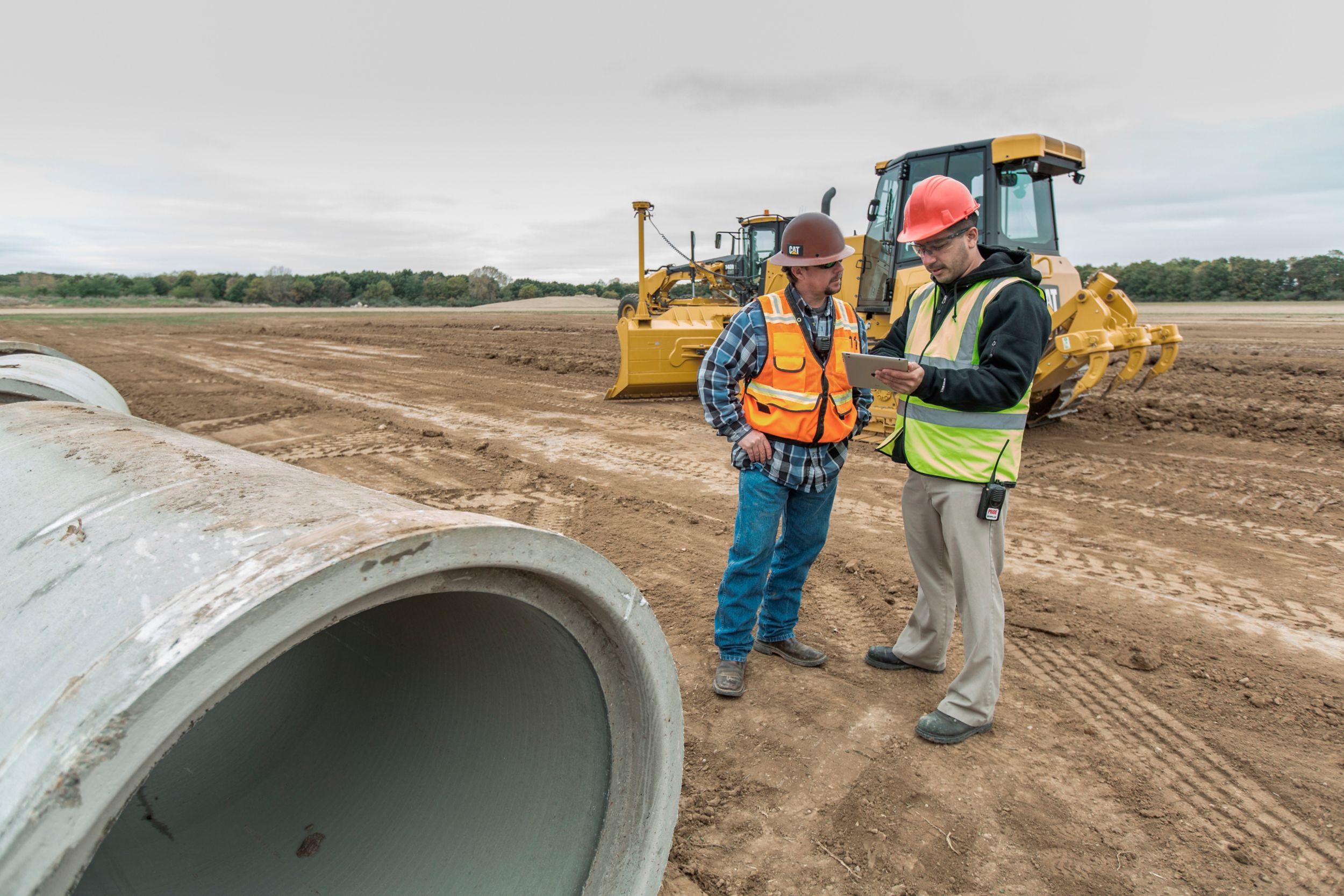 Integrated Technologies
Monitor, manage and enhance job site operations
Cat Connect makes smart use of technology and services to improve your job site efficiency. Using the data from technology equipped machines, you'll get more information and insight into your equipment and operations than ever before.
Cat Connect services are also available from your dealership including:
Equipment Management – increase uptime and reduce operating costs.
Productivity – monitor production and manage job site efficiency.
Safety – enhance job site awareness to keep your people and equipment safe.
LINK Technologies
LINK technologies provide wireless capability to machines enabling two-way transfer of information collected by on-board sensors, control modules, and other Cat Connect technologies using off-board apps, such as our VisionLink® software.
Product Link™/VisionLink
Product Link takes the guesswork out of equipment management. Track location, hours, fuel usage, productivity, idle time, and diagnostic codes through the online VisionLink interface. Manage your fleet in real time so you can maximize efficiency, improve productivity, and lower operating costs.
GRADE for Dozers
Cat Connect GRADE technologies help you hit target grade faster and more accurately. Finish jobs in fewer passes, and with less operator effort, saving you time and helping you increase profit.
Cat GRADE with Slope Assist (Standard) helps operators more easily achieve the required main-fall and slope orientation of the blade by automatically maintaining pre-established blade angles for the grade. The system saves time, increases finish quality and reduces operator input. Experienced operators can work more productively and less experienced operators can achieve better quality results more quickly.
Cat Slope Indicate (Standard) displays machine cross-slope and fore/aft orientation on the primary monitor, helping operators work more accurately on slopes.
Cat Stable Blade (Standard) complements the operator's blade-control input for attaining finish grades quicker with less effort.
Cat GRADE with 3D (Optional – available early 2017) is a factory integrated grade control system that enables operators to improve grading efficiency, accuracy, and productivity in both production dozing and fine-grading applications. The integrated design positions antennas on the cab roof, eliminating conventional blade-mounted masts and related cables. The AccuGrade Ready Option (ARO) is part of the package for added versatility, and AutoCarry™ is included to further boost productivity.
Cat AccuGrade (Optional) is a dealer-installed aftermarket grade-control system that provides increased grading versatility and the ability to scale capacity to changing needs, providing a choice of lasers for 2D flat-plane and slope work, Global Navigation Satellite System (GNSS) control for complex 3D cuts and contours, and/or systems using a Universal Total Station (UTS) for fine and finish grading.
AccuGrade Ready Option (ARO) (Optional) allows you to easily install or upgrade to AccuGrade 2D and 3D grade-control systems to add versatility and resale value to your machine.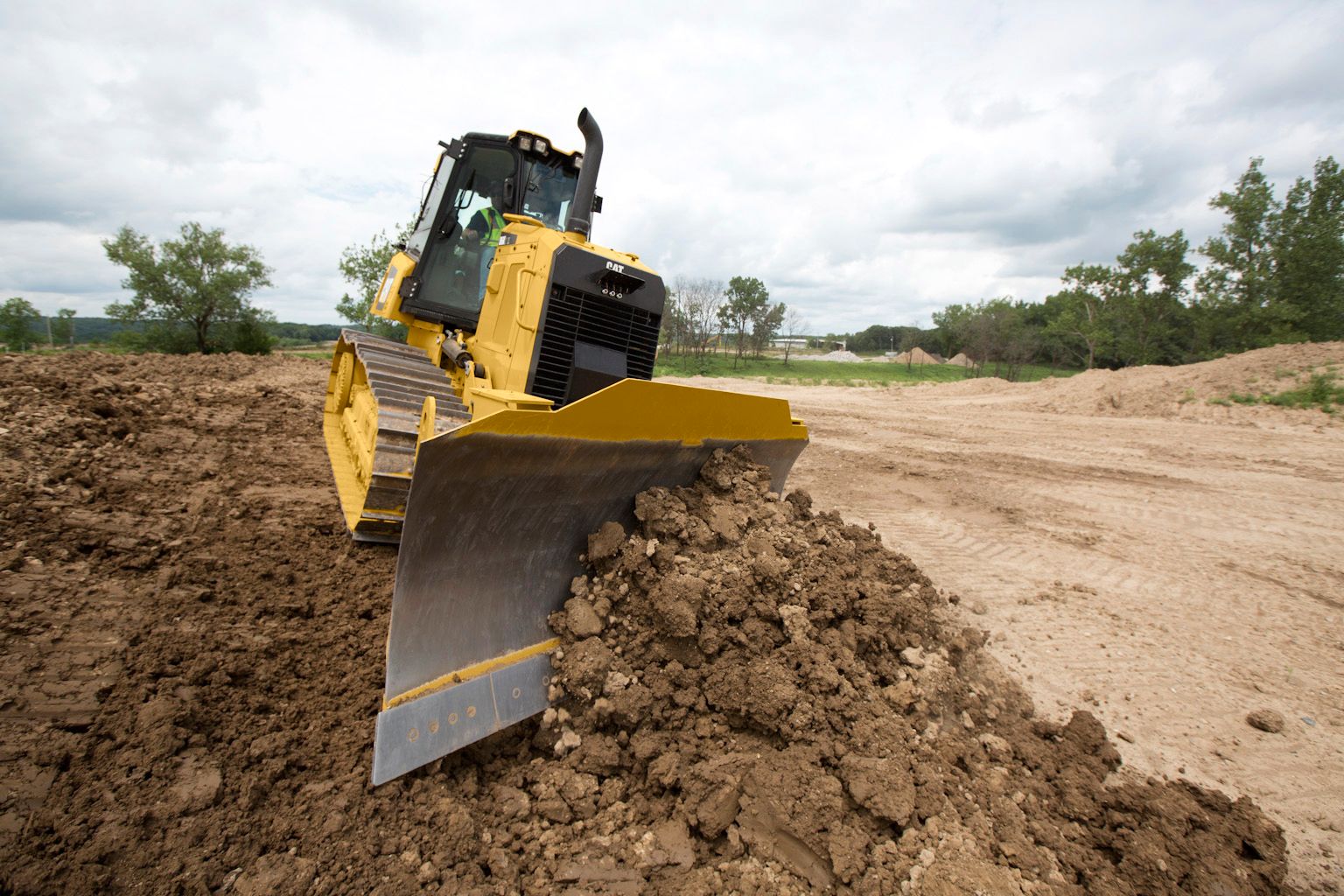 Equipped for the Job
Optimize your machine
Blades
Rugged Variable Pitch Angle Tilt (VPAT) blade allows you to hydraulically adjust lift, angle and tilt for precise results.
Wide blade helps you get more work done in less time.
Blade shake feature for easy removal of material.
Folding blade option helps limit transport width.
Power pitch option lets you easily adjust blade to optimum pitch for your application using buttons on the right hand control.
Undercarriage
Optimized undercarriage – eight bottom rollers/two carrier rollers for smoother ride and improved finish grading. New equalizer bar design supports faster fine grading speed.
Choose Heavy Duty undercarriage for aggressive applications like land clearing, side-slopes or rocky terrain.
Choose SystemOne™ undercarriage that is designed to work and wear as a system for longer life and lower costs in abrasive or low/moderate impact applications.
A broad choice of track shoe designs and widths help you further optimize your machine for performance and longer life.
Rear Implements
To help you match your dozer to the task at hand, you can outfit your D6K2 with a multi-shank parallelogram ripper, winch or drawbar. A dual control package makes it simple to utilize either a ripper or winch.
Ask your Cat dealer for available options to help you optimize your machine for the work you do.
Forestry Arrangement
Specialized arrangement includes a forestry blade, hydrostatic winch, 360 degree guarding for added protection of the cab and a heavy-duty rear tank guard.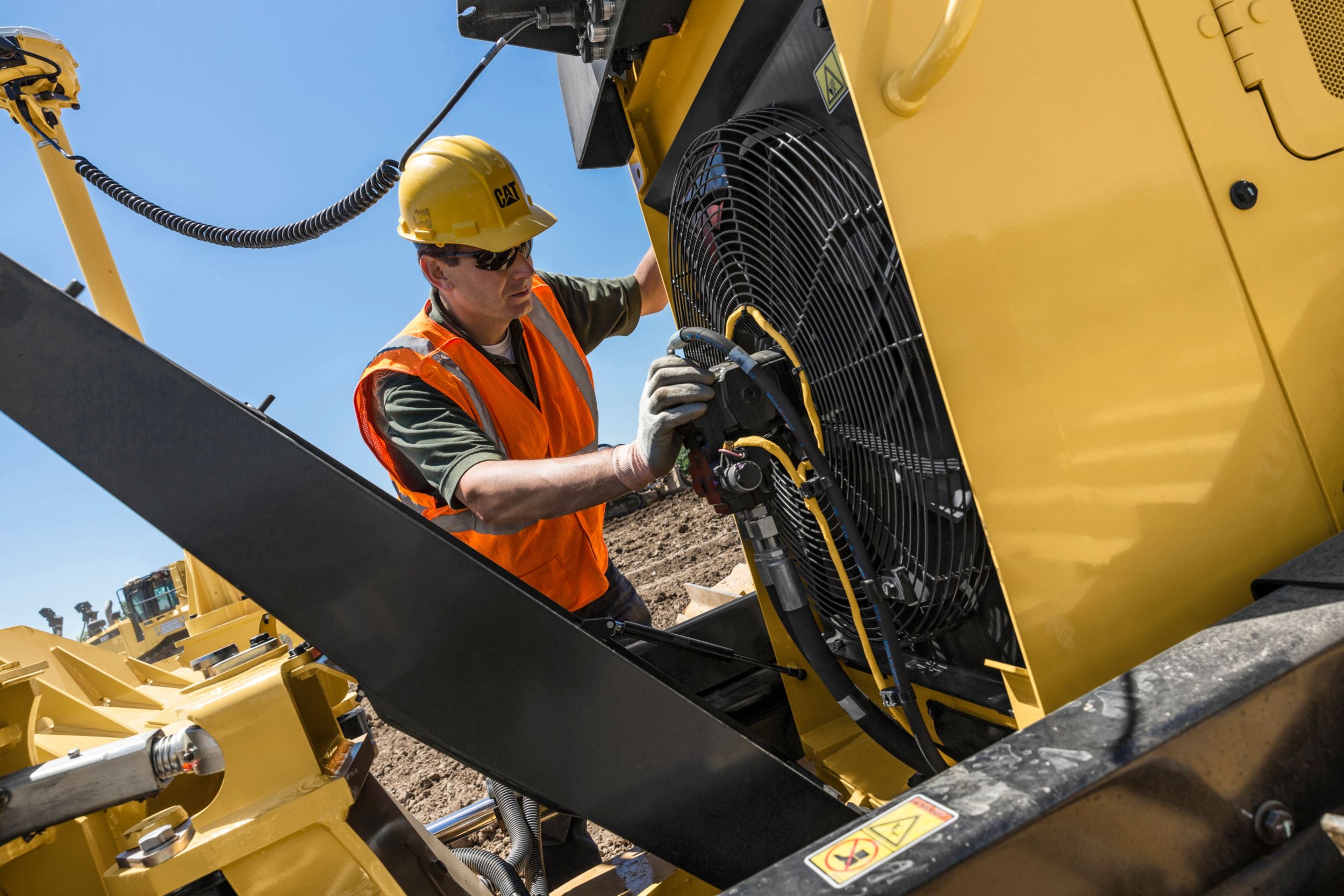 Serviceability and Customer Support
When uptime counts
Long service intervals and easy maintenance keep the machine up and running to help lower your owning and operating costs.
Large, hinged door on the left side of the engine compartment for easy access to all regular engine maintenance points.
Larger access panel to engine oil filter and new panel for easy access to fuel filter.
Easy ground-level access to hydraulic filters located in the left rear service compartment.
Grouped maintenance and diagnostic points.
Ground level access to Diesel Exhaust Fluid fill.
Updated track roller frame design for easier cleanout.
Optional bracket mounts to rear of machine to keep a shovel handy.
Optional onboard refueling pump is designed to make remote fueling from a fuel drum safer and faster.
POWER TRAIN
TECHNOLOGY PRODUCTS
UNDERCARRIAGE
HYDRAULICS
ELECTRICAL
OPERATOR ENVIRONMENT
FLUIDS
OTHER STANDARD EQUIPMENT
INSTRUCTIONS