CD54B Drum Steer Tandem Vibratory Roller (Solid Drum)
CD54B Drum Steer Tandem Vibratory Roller (Solid Drum)
Get A Quote
The Cat® CD54B is a 10 ton roller with 1700 mm (67") tandem vibratory drums. It excels on a variety of asphalt mix designs as well as other granular materials. It features exceptional visibility and control, smooth operating powertrain, versatile vibratory systems, Cat Compaction Control, and the industry leading water spray system.
Vibratory System
Drum Width

67.0 in

Drum Diameter

47.0 in

Frequency

3200.0 vpm

Vibration Selection

Independent per drum, front only, rear only, both

Eccentric Weight Drive

Hydraulic direct, auto reversing

Centrifugal Force per Drum - Maximum

19491.0 lb

Centrifugal Force per Drum - Minimum

16973.0 lb

Nominal Amplitude - High

0.026 in

Nominal Amplitude - Low

0.013 in
Operating Specifications
Standard Compaction Width

67.0 in

Curb Clearance

31.0 in

Turning Radius Inside Drum Edge

9.3 ft

Ground Clearance

10.0 in

Maximum Compaction Width

118.0 in

Static Linear Load

149.0 lb/in

Travel Speed - Maximum

7.5 mph
Service Refill Capacities
Fuel Tank Capacity

50.0 gal

Water (Spray) Tank Capacity

198.0 gal
Dimensions
Overall Length

166.0 in

Wheelbase

123.0 in

Height with ROPS/FOPS

116.0 in

Compaction Width

67.0 in

Overall Width

66.0 in

Drum Diameter

47.0 in

Drum Width

67.0 in
Weights
Operating Weight

19908.0 lb

Operating Weight at Rear Drum with ROPS/FOPS

9678.0 lb

Operating Weight at Front Drum with ROPS/FOPS

9656.0 lb

Operating Weight with cab

19908.0 lb

Maximum Weight at Front Drum

9987.0 lb

Maximum Weight at Rear Drum

9921.0 lb

Operating Weight with ROPS/FOPS

15873.0 lb
Engine
Gross Power

102.0 hp

Bore

3.89 in

Stroke

4.33 in

Engine Model

Cat® C3.4B with ACERT Technology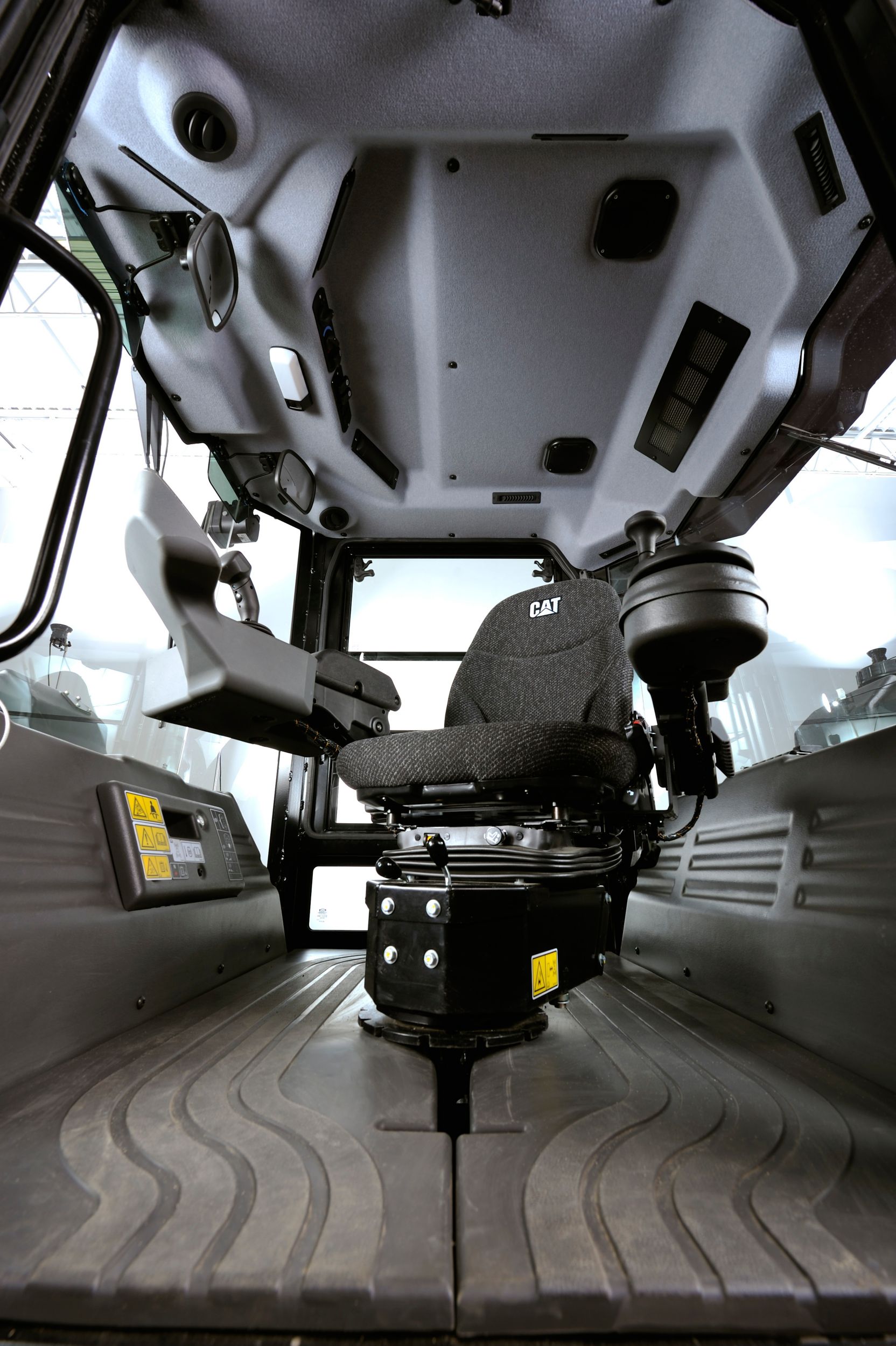 Exceptional Visibility and Control
The B-Series Tandem Vibratory Rollers offer unobstructed sight lines with standard 180° seat positioning and ability to rotate 360° for excellent all-around visibility. Also, drum edge and drum surface lighting provide better lighting for nighttime operation. The innovative handwheel steering technology eliminates the front console that is commonly found on other machines for precise machine control.
Comfortable Operating Station
The machine controls and LCD display are integrated with the pivoting adjustable seat, and move with the operator. Seating options include vinyl for open-platform configurations and cloth for cab, both can be equipped with a heated option. An optional deluxe highback air-ride seat is also available. Other comfort features include a vibration-absorbing floor mat, 12-volt power receptacle that supports communication devices, wide-width seat belt, cup holders and a lockable storage compartment.
Fingertip Control
The multi-function propel lever with integrated controls for water spray on/off, drum offset, vibratory control, and optional edge cutter height adjustment enables the operator to work with confidence.
LCD Display
The back-lit LCD display includes machine data and diagnostics. It is integrated with the seat, so it remains in same position even as the seat pivots. A built-in lockable anti-vandalism cover offers protection. The display provides multiple language options, split-screen capability, and indicators for ground speed, vibrations per minute, and fuel level.
Convenient Console
The console is integrated with the seat, providing fingertip access. Soft keys with tactile feel provide instant feedback to the operator for intuitive operation. The armrests are adjustable and can be tailored to the operator for additional comfort.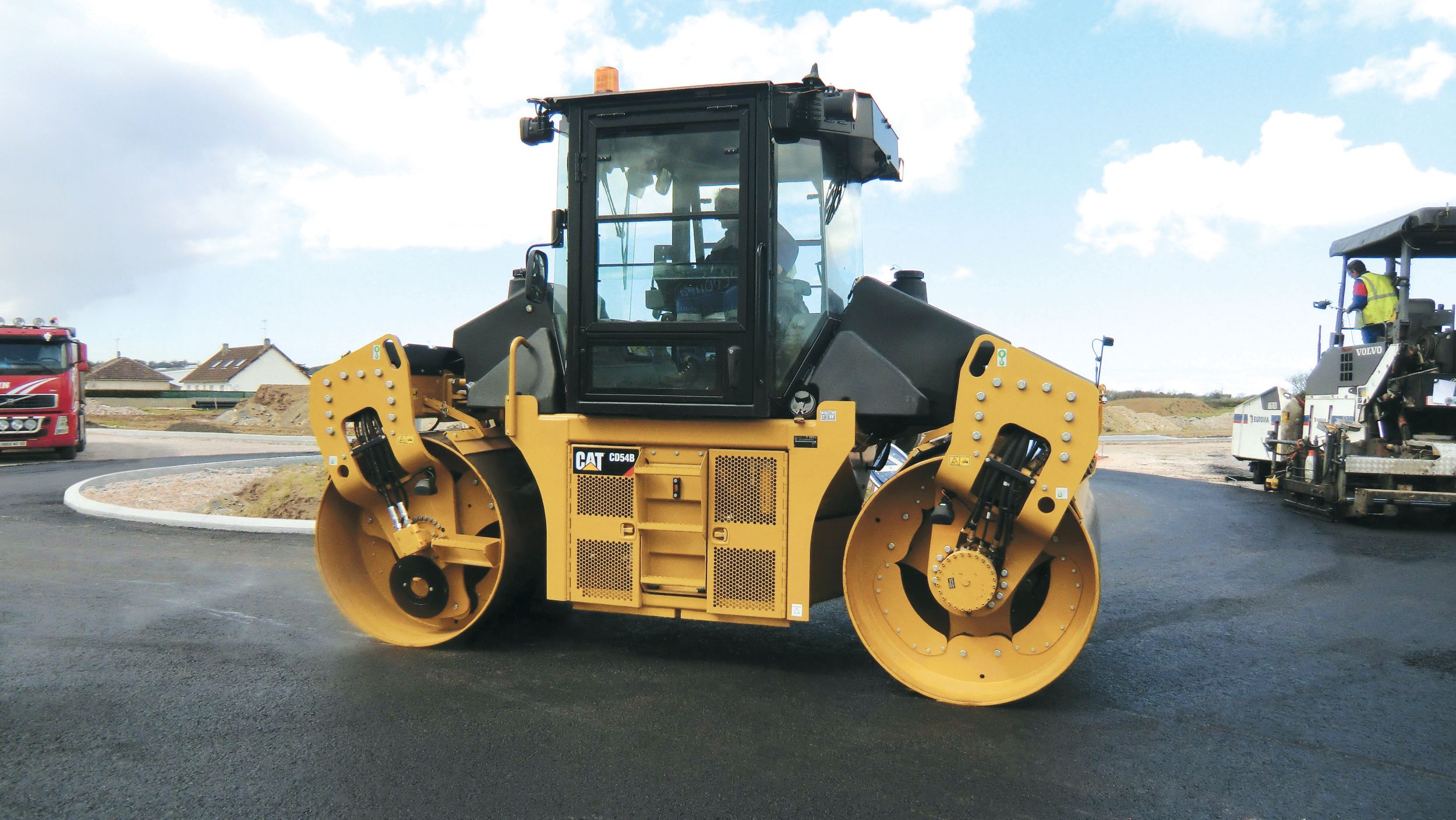 Drum Steer Features
The drum steer machines can offset the drums up to 1.3 m (51") to provide more coverage for higher production on thin mats while minimizing heat loss prior to compaction. Ease of operation is provided through fingertip control at the propel lever and an audio alarm alerts the operator when the drums are aligned.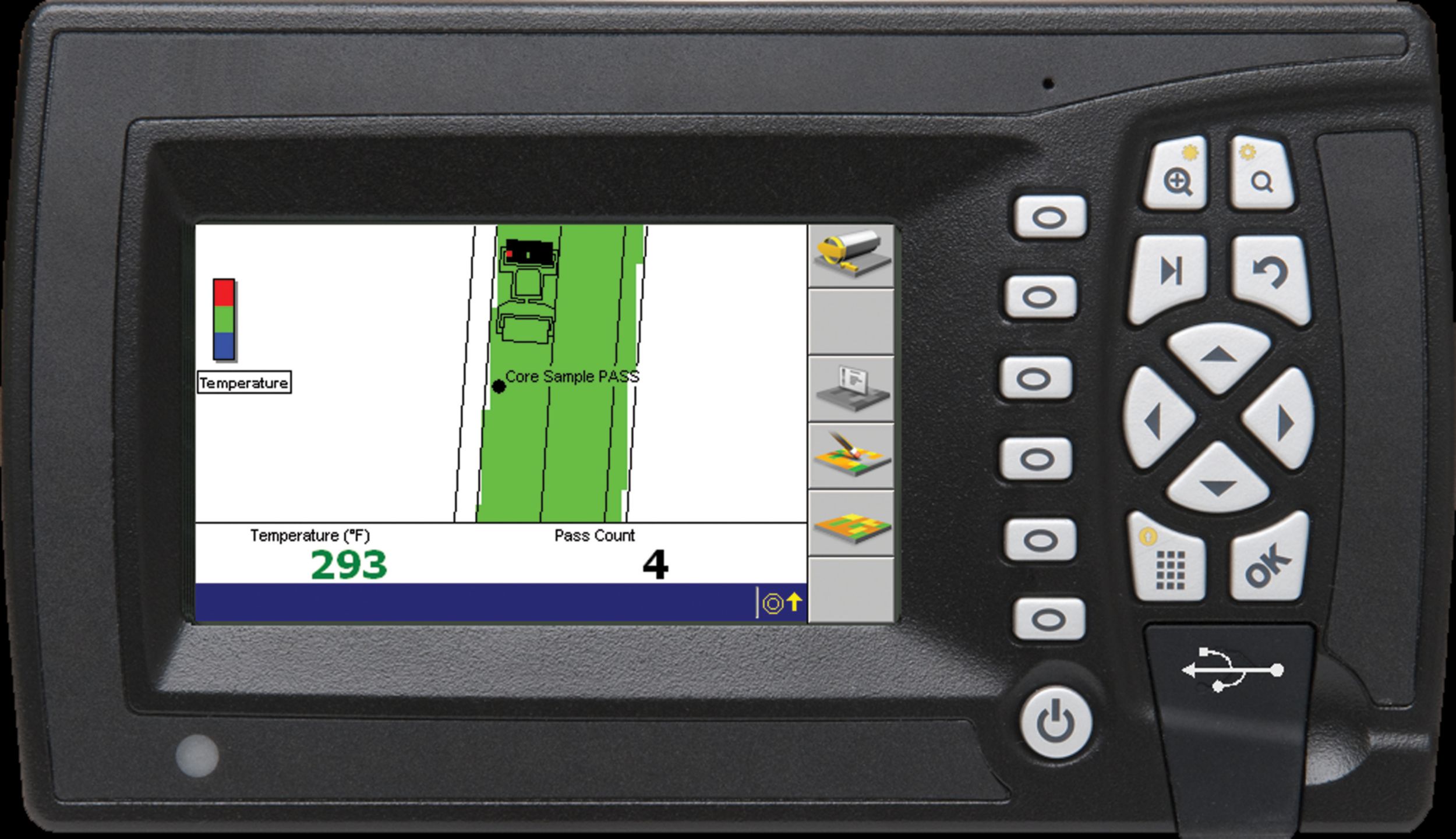 Cat® Compaction Control
The optional Cat Compaction Control helps contractors increase efficiency and productivity while recording data for quality control documentation and future planning.
Temperature Sensors
Dual infra-red sensors mounted on the front and rear of the machine deliver real-time readings that keep the operator informed of when to begin rolling and when to stop. This system helps operators avoid tender-zones that often occur in the 104º-110º C (219º-230º F) temperature range.
Pass-Count Mapping
Pass-count mapping helps operators achieve target density and increase roller efficiency. The system records and monitors pass patterns in order to display coverage. The system also helps operators optimize drum overlap, simplify nighttime operation, eliminate second guessing and prevent incomplete passes such as stopping short.
Temperature Mapping
Temperature mapping provides a visual readout of mat temperature in order to keep the machine in the proper temperature range. The system records and monitors temperature for future analysis of the proper temperature range.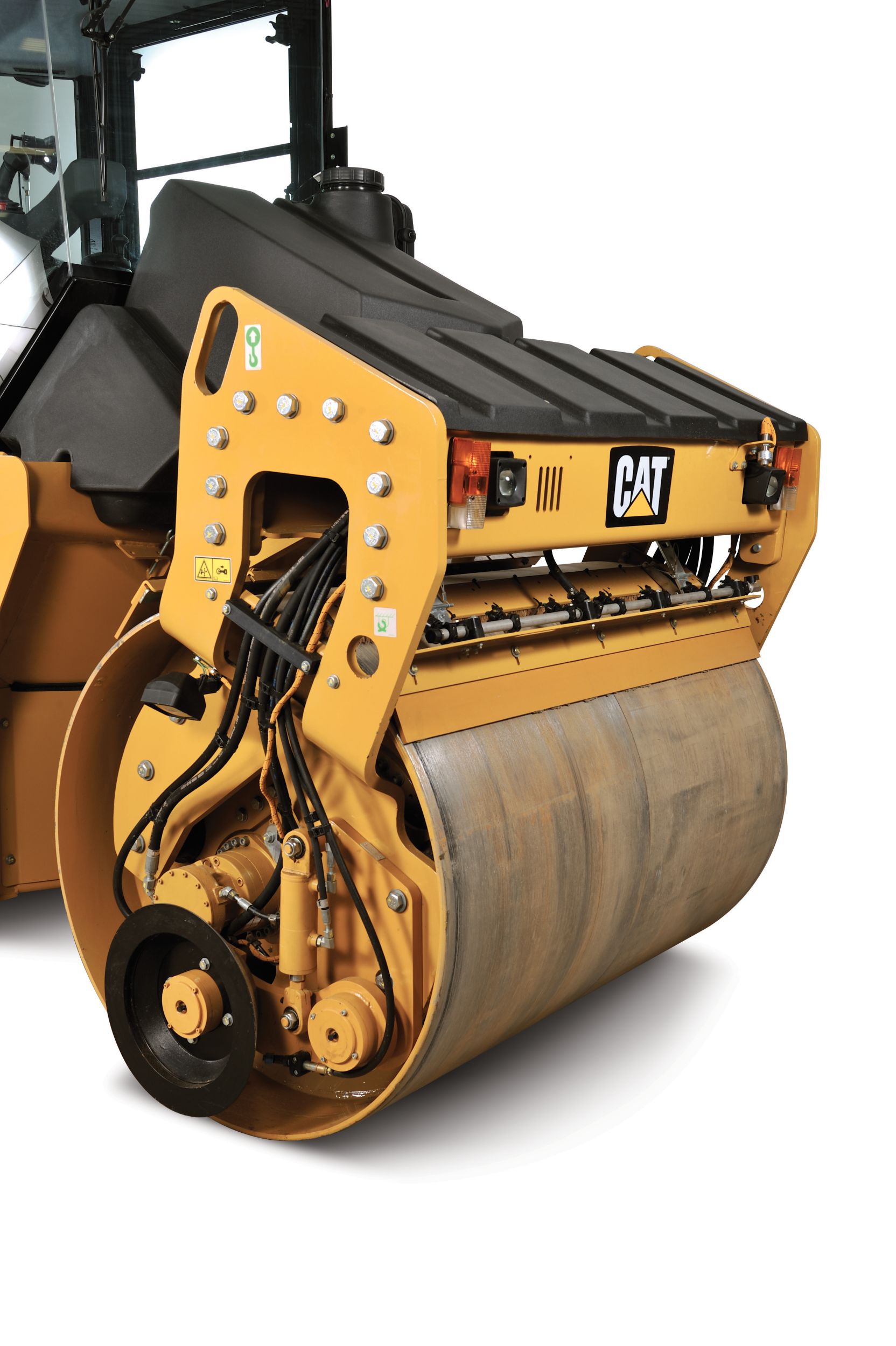 Vibratory System Choices
Cat Tandem Vibratory Rollers quickly reach target densities due to their versatile frequency and amplitude selections. These powerful rollers also provide finesse when necessary due to their flexible front or rear drum only vibratory capability. Options include dual amplitude/dual frequency and five amplitude systems.
Solid Drum Design
The solid drum design is a cost-effective solution that offers a higher amplitude for tough to compact mix designs.
Performance Features
The vibratory systems offer multiple options that help fine-tune performance on thick challenging lifts. The automatic speed control feature makes it easier to maintain consistency and impact spacing requirements. Also, an auto vibe function helps prevent over-compaction and contributes to uniformity.
Dual Amplitude/Dual Frequency Vibratory System
The dual amplitude, dual frequency vibratory system can be tailored to thin and thick lifts. A single switch automatically matches amplitude and frequency for simple operation.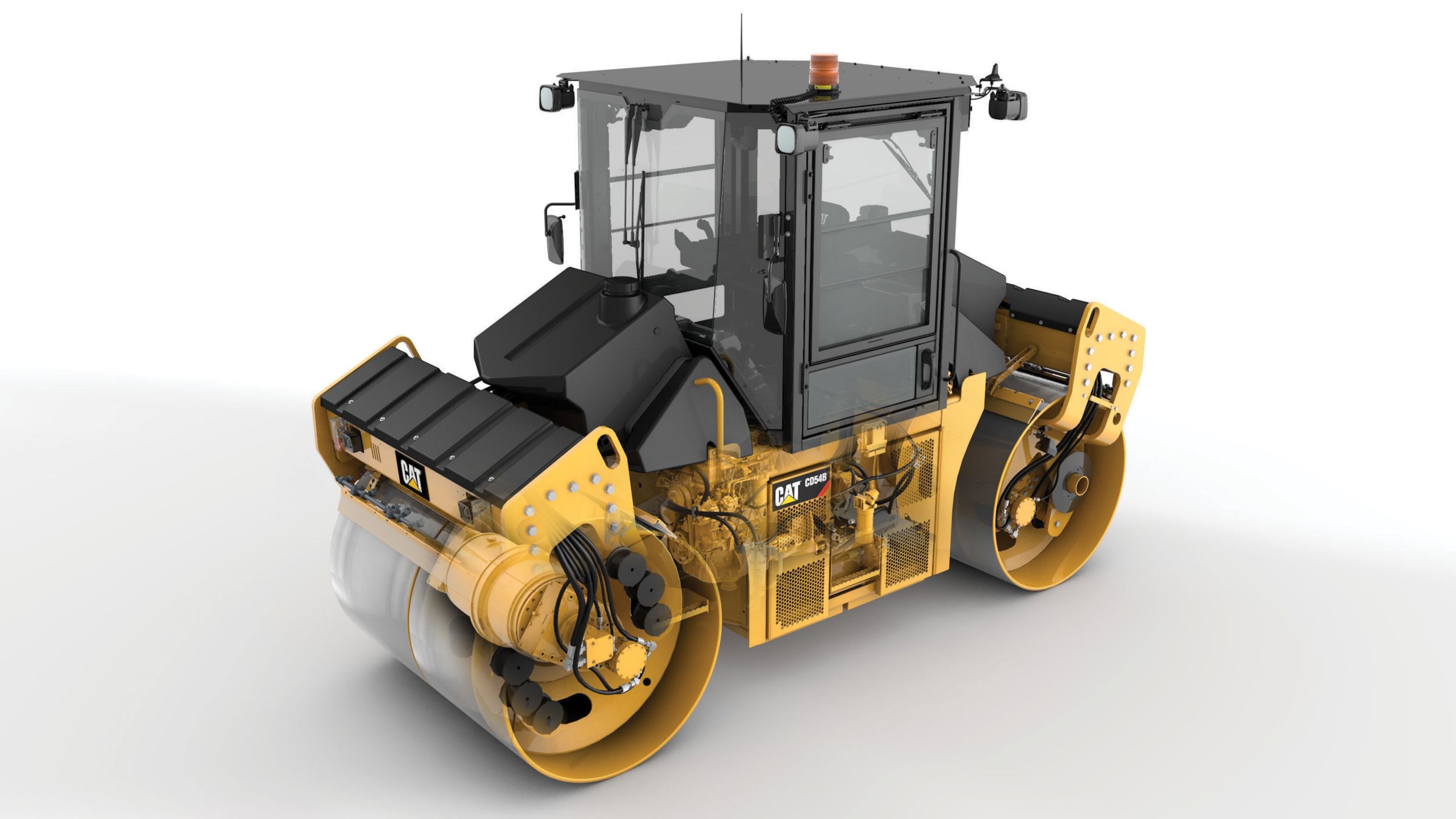 Smooth Operating Powertrain
The B-Series tandem rollers are powered by Cat® engines with ACERT™ Technology. The engine includes a variety of features that help reduce fuel burn, yet still deliver the power required on challenging jobsites. Tough components help extend compactor life.
Cat® C3.4B Engine
The C3.4B engine provides 75 kW (102 hp) of power and meets U.S. EPA Tier 4 Interim and EU Stage IIIB emission standards. It features an electronic control module (ECM), providing optimal performance through precisely synchronized timing and fuel delivery. The ECM enables advanced troubleshooting and diagnostic capabilities using Electronic Technician (Cat ET). Cat dealers are the single-source providers of all machine and engine warranty service (a Cat exclusive).
High Capacity Cooling System
The large capacity cooling system keeps the operating temperatures low, even in extreme conditions. The high capacity fans direct warm air away from the operator for a more comfortable operating environment.