926M Waste Handler Small Wheel Loader
926M Waste Handler Small Wheel Loader
Get A Quote
The Cat 926M Waste Handler sets a new standard for productivity, fuel efficiency and comfort. A high torque, low speed C7.1 ACERT engine works in concert with an intelligent hystat power train to deliver fuel efficiency as standard. A complete range of guarding and debris management solutions are available to meet the needs of the most demanding environments. Extremely low sound levels, large spacious cab and intuitive controls keep you working comfortably all day and even all night! Experience the new industry benchmark.
Engine
Maximum Gross Power

153 hp

Bore

4 in

Stroke

5 in

Bore

4 in

Displacement

427 in3

Stroke

5 in

Displacement

427 in3

Note

Spark arrester performance as standard – Meets the performance requirements of EN 1834-1.2000 (section 6.4.2 Visual Test).

Engine Model

Cat® C7.1 ACERT™

Engine Model

Cat® C7.1 ACERT™

Emissions

Engine meets U.S. EPA Tier 4 Final/EU Stage IV emission standards.

Emissions

Engine meets U.S. EPA Tier 4 Final/EU Stage IV emission standards.
Weights
Operating Weight

31240 lb

Operating Weight

31240 lb
Buckets
Bucket Capacities

3.0-5.0 m3 (3.9-6.5 yd3)

Bucket Capacities

3.0-5.0 m3 (3.9-6.5 yd3)
Cab
ROPS

ISO 3471: 2008

FOPS

ISO 3449: 2005 LEVEL II

ROPS

ISO 3471: 2008

FOPS

ISO 3449: 2005 LEVEL II

Note

The Blue Angel environmental label is an optional attachment for Europe only.
Service Refill Capacities
Engine Crankcase

5.3 gal

Fuel Tank

51.5 gal

Cooling System

7.9 gal

Hydraulic Tank

23.8 gal

Cooling System

7.9 gal

Engine Crankcase

5.3 gal

Fuel Tank

51.5 gal

Hydraulic Tank

23.8 gal

Diesel Exhaust Fluid (DEF) Tank

5 gal
Loader Hydraulic System
Maximum Working Pressure – Implement Pump

3771 psi

Relief Pressure – Tilt Cylinder: 3rd Function Relief Pressure

3771 psi

Note

*3rd function flow is fully adjustable from 20% to 100% of maximum flow through the touch screen display when equipped.

Maximum Flow – Implement Pump

40 gal/min

Relief Pressure – Tilt Cylinder

4061 psi
Steering
Maximum Working Pressure – Steering Pump

3500 psi

Maximum Flow – Steering Pump

34 gal/min
Transmission
Note

*Creeper control allows maximum speed range adjustability from 1 km/h (0.6 mph) to 13 km/h (8 mph) in Range 1 through the touch screen display when equipped. Factory default is 7 km/h (4.4 mph).
Application Specific Configuration
Maximize performance and productivity while minimizing operating costs.
Guard Your Investment
Choose from a complete range of optional guarding to protect your machine from the harsh environment of a waste handling application. The machine guarding is purpose built to protect the machine's major components and systems to keep you on the job and maximize production rates.
Breathe Clean
Maximize your engine life and extend filter cleaning intervals with a turbine pre-cleaner. Keep cool with a reversing fan to purge the single plane, widely spaced core cooling package and brush-less sealed alternator. Breath clean with a powered RESPA system for the operator environment designed to eliminate 90% of the particulate in the air and filter the remaining 10%.
Maximize Tire Life
Fine tune your wheel torque to match the underfoot conditions and maximize performance while extending tire life. Cat Waste Handlers feature wheel torque adjustments through an exclusive Rimpull Control feature designed to keep your operating costs low.
Customize Your Experience
Make it yours.
Work as one with your machine by customizing the controls.
Flexible Power Train
A smooth, step-less electronically controlled hydrostatic transmission provides adjustable power to the ground with excellent groundspeed control and customizable feel.
Select your Power Train Mode:

Torque Converter (TC) for smooth rollout.
Hystat for aggressive engine braking.
Default mode which blends the best of Hystat and Torque Converter characteristics.

Reduce tire wear using Rimpull control which enables you to match available tractive power to underfoot conditions
Set Directional Shift Response, soft and smooth for material handling applications or sharp for aggressive operation.
Adjustable Electro Hydraulic Controls
Easily customize the hydraulic performance through touch screen display to optimize your efficiency.
Optimize hydraulic modulation with Fine Mode control when working with forks.
Quicker Hydraulic response for fine grading at speed and quick functions through Lift and Tilt response settings.
Fully adjustable ride control activation speed along with 3rd function auxiliary flow for powering a roll out bucket.
Operator Profiles and Coded Start
The M Series Wheel Loaders will remember you and your personal settings with unique operator codes to make this machine truly yours and keep it secure on the job site.
Efficiently Powerful
Experience hybrid-like fuel efficiency with more power when you need it.
Power on Demand
A choice of Power Modes allows you to choose between maximum fuel efficiency or boosted power along with hydraulic speed to get your work done even quicker.
Standard Power Mode
Saves up to 10% fuel compared to previous K Series models while running at an efficient 1,600 rpm.
Recommended for load and carry to maximize fuel efficiency.
Power-by-range logic increases power in speed Range 4 automatically to maximize travel speed and grade climbing performance.
Reduces cab sound levels down to a whisper quiet 64 dB(A) typical.
Performance Power Mode
Enabled at the push of a button (HP+).
Boosts engine power by up to 10% in all speed ranges.
Boosts engine speed by over 12%.
Increases hydraulic cycle times and productivity.
Six Cylinders of Efficient Power
The Cat C7.1 ACERT engine provides more efficient, quieter operation while delivering superior performance and durability through a high torque, low speed design. The engine meets U.S. EPA Tier 4 Final and EU Stage IV emission standards with a Clean Emissions Module that is designed to manage itself so you can concentrate on your work.
No downtime for regeneration with a passive low temperature system that keeps you on the job.
Fit for Life Diesel Particulate Filter that is designed to exceed the engine overhaul life.
Extended fluid fill intervals with minimal use of Diesel Exhaust Fluid (DEF) with up to four fuel tank fills per DEF fill.
Configurable auto idle shut down based on time and ambient temperature to further reduce fuel burn and keep operating costs low.
Spark arrester performance as standard – Meets the performance requirements of EN 1834-1.2000 (section 6.4.2 Visual Test)
Power to the Ground
Lock up and go with fully locking front differential axles that can be engaged on the move at full torque with the pull of a trigger on the seat mounted joystick. Maximize your traction with optional Limited Slip Differential on the rear axle to keep you climbing.
Independent service brakes on front and rear axles provide robust stopping performance while a push button electronic park brake allows you to safely secure the machine with ease.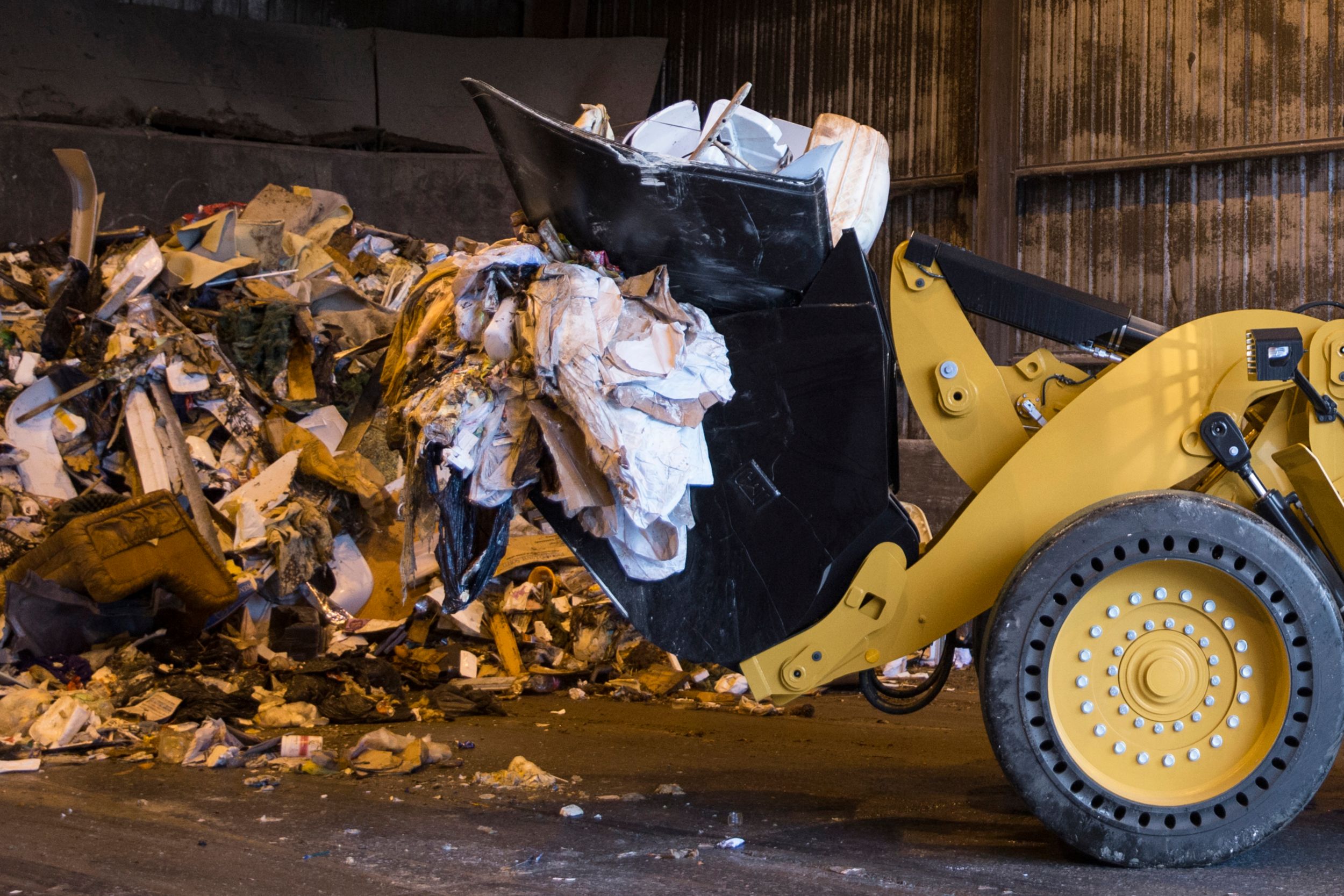 Work Made Easy
Getting the job done.
Optimized Z-bar Linkage
The Caterpillar patented optimized Z-bar linkage combines the digging efficiency of a traditional Z-bar with integrated tool carrier capabilities for great performance and versatility.
Perfect Parallelism functionality available in Fork Mode gives truly predictable performance while high tilt forces throughout the working range help you safely and confidently handle loads with precise control.
Visibility to bucket corners and fork tips at ground level remain excellent while sight lines at maximum lift are improved with a Generation II lift arm design.
Quick Loading, Performance Series Buckets
Performance Series Buckets deliver up to 10% higher fill factors and better material retention for significant productivity and fuel efficiency improvements. The buckets feature a longer floor to take a bigger bite of the pile, an open throat to heap higher and curved side bars to help with material retention. This optimized shape is echoed across the General Purpose, Light Material, and High Dump bucket families.
Smooth and Predictable Multi-Function Performance
M Series machines feature an electro-hydraulic control system that is governed by the Intelligent Power Management system for peak efficiency. The load-sensing, variable flow system senses work demand and adjusts flow and pressure to match the operators request.
Multi-Function without compromise through Caterpillar's exclusive dedicated hydraulic systems featuring three pumps:

1st pump for Intelligent Hydrostatic drive
2nd pump for implements
3rd pump for steering system
Drive, Lift and Steer simultaneously with smooth predictable control. The M Series simply does what you ask it to.
Programmable in-cab kick-outs are easy to set on the go for tilt, lower and lift. This feature is ideal for applications where the work cycle is repeatable allowing you to quickly return to programed set points such as ground and level.
Fine tune hydro-mechanical performance with fully adjustable 3rd function flow through the touch screen display (when equipped) for a perfect marriage between machine and attachments.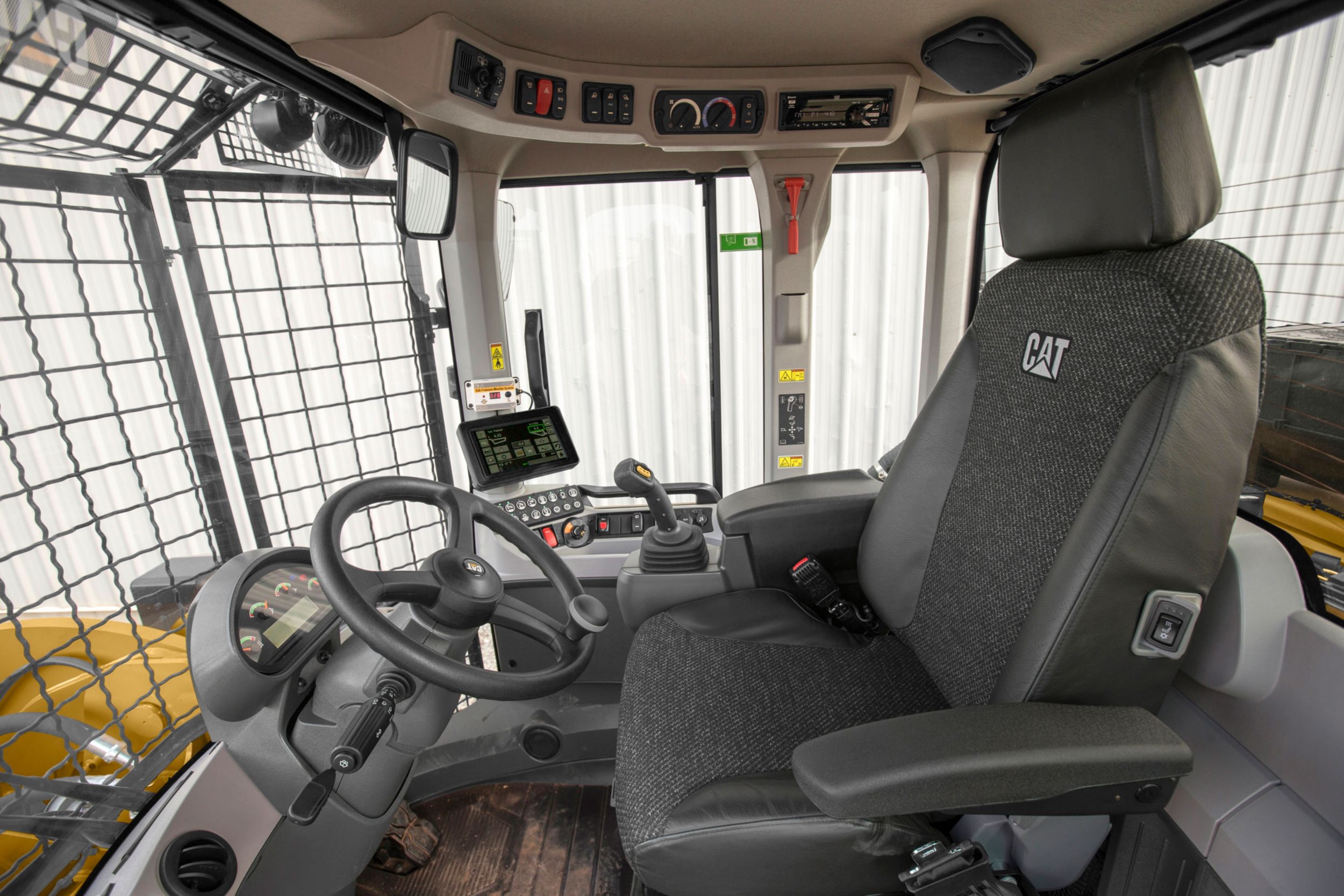 Enjoy All Day Comfort
Best seat on the job site.
Have a Seat and Experience:
Seat-mounted controls featuring a low effort joystick for lift and tilt functions along with integrated Forward/Neutral/Reverse switch, differential lock trigger and optional third and fourth auxiliary functions.
Superior all around visibility with single piece front windshield, new parabolic external mirrors, redesigned Generation II linkage and clean hydraulic lines routing.
Automatic climate control with heated rear glass and external mirrors for a quick defrost.
Fully adjustable controls including steering column, joystick and seat suspension.
Information at a glance with large primary LCD display and optional full color touch screen display.
An extra eye on the job site with optional integrated rear object detection and optional* rearview camera.
A heated and cooled seat option for added comfort in a wide range of climates.
*Standard in Europe.
An easy day at work with:
A spacious, safe, quiet operator environment featuring ergonomic controls, seat belt notification and optional Bluetooth™ radio with integrated microphone plus an auxiliary port.
Easy access to vital machine parameters with the optional touch screen display that works in conjunction with the standard soft touch panel to allow real time adjustments to machine features and an integrated help button with over 25 languages.
Comfortable soft stops at cylinder end stroke conditions and programmable kickout points with Caterpillar's exclusive electro-hydraulic cylinder snubbing.
An even smoother ride with optional Ride Control when working unloaded and loaded with excellent material retention.
Early starts and late finishes are made easier with optional LED lighting package that includes engine compartment lighting to illuminate the way for checking oil, and coolant level along with refueling the machine in dark conditions.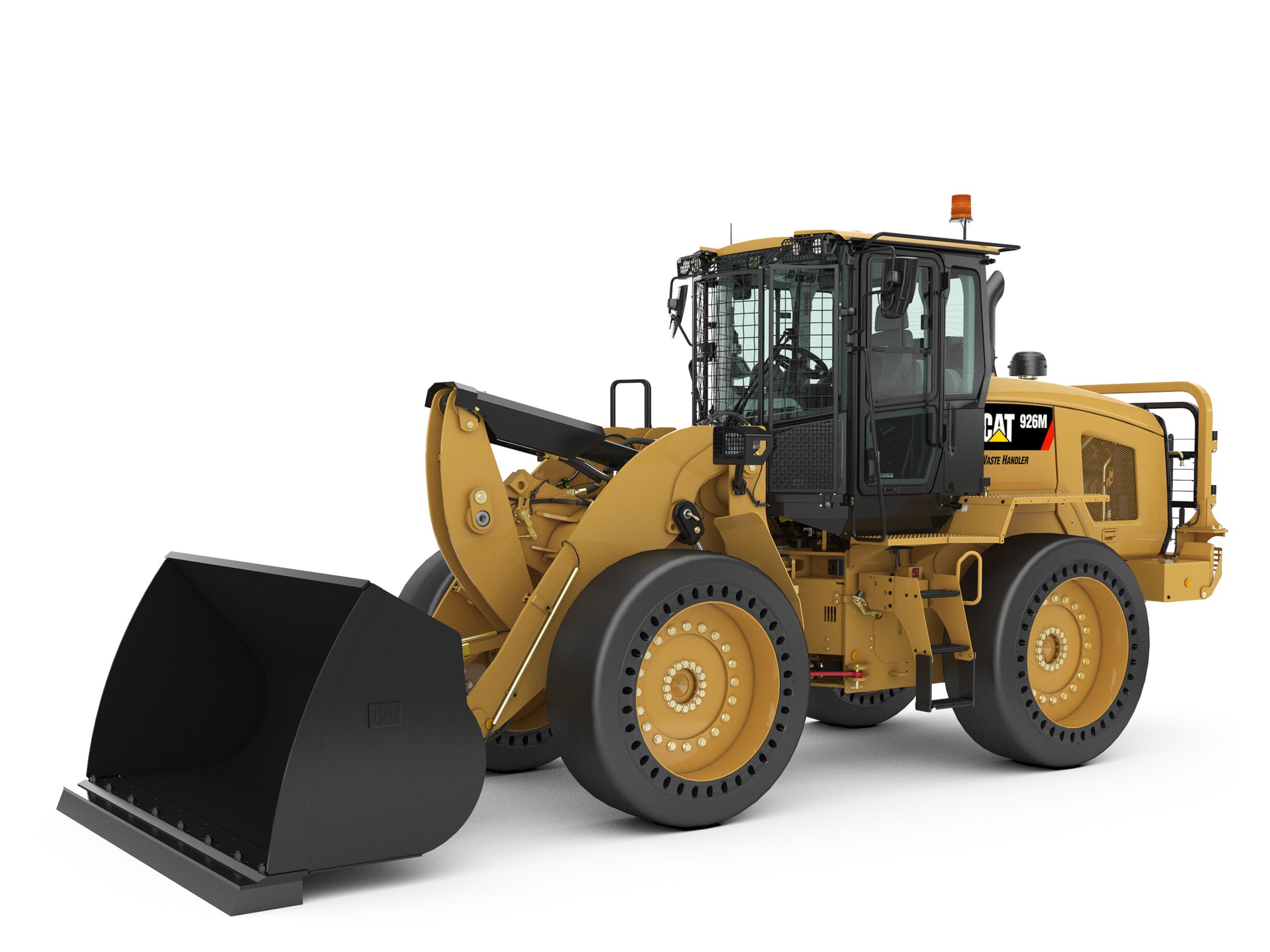 Configured for Success
Ready to work for you.
The Way You Want It
A complete range of optional equipment and work tools gives you the versatility to configure a Waste Handler to be successful in your business. Get with your Caterpillar dealer to configure yours.
Guards:
Windshield
Tilt cylinder
Lights
Fender deflectors
Drive shaft
Hitch
Steering cylinders
Side power train
Lower power train
Crank case
Debris Packages:
Reversing fan
Sealed alternator
Turbine precleaner
RESPA precleaner
Work Tools:
Operator Environment:
Seat, deluxe or premium
Deluxe cab (with touch screen display)
Other Options:
Autolube
High lift linkage
Coupler: Fusion™ and ISO 23727
Auxiliary hydraulics: 3rd and 4th
Window washing access
Ride control
Fenders: extended and full coverage
Counterweights
Cold start package
Rear object detection
Blue Angel certification
Beacon
LED auxiliary lights
CPM – Cat Production Measurement
TPM – Tire Pressure Monitoring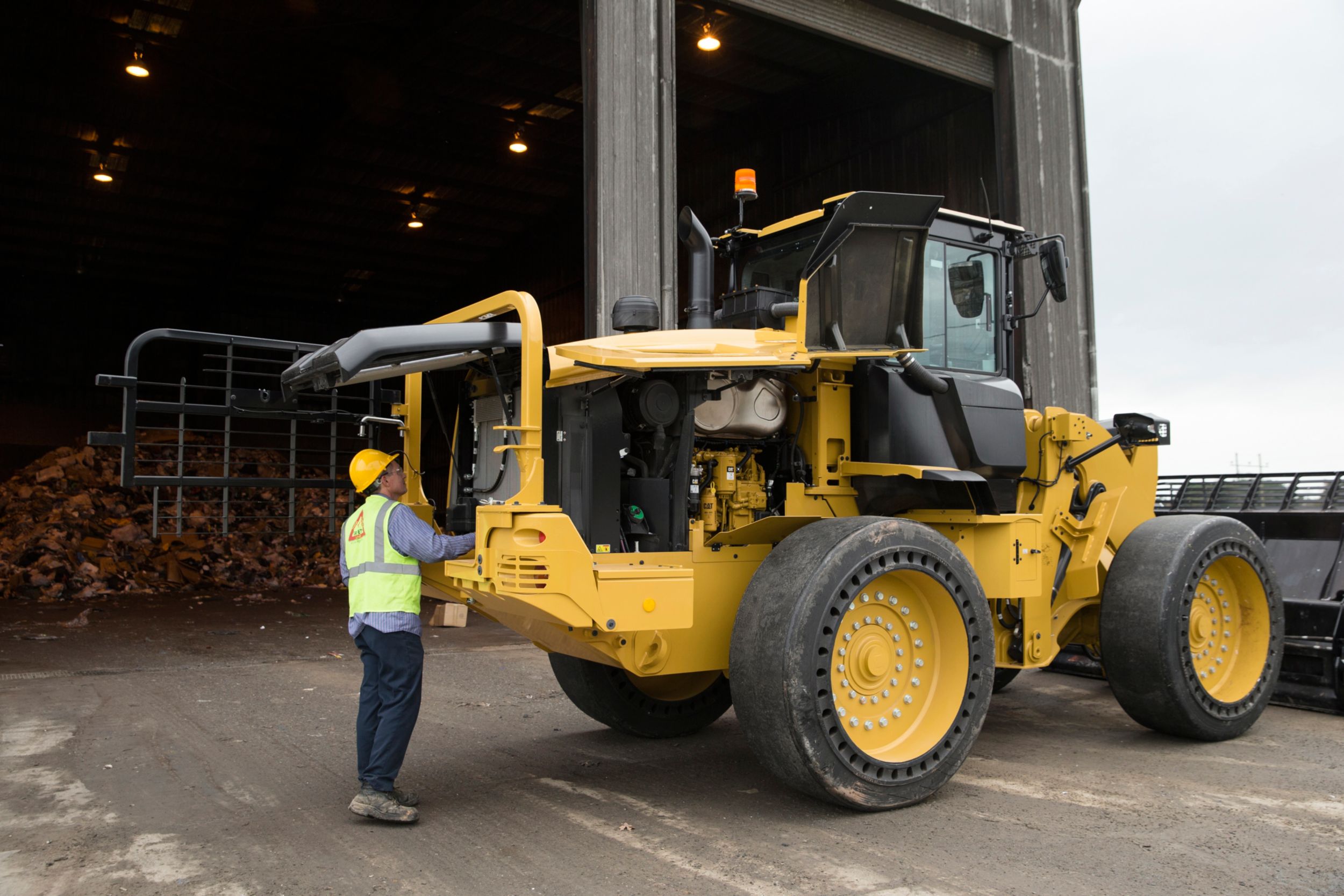 Serviceability
Schedule your downtime to maximize your up time.
Get up and running quickly with ground level, daily service access and optional engine compartment lighting. Three large service doors can be opened and closed in any order to give full access to filters and service points. Extended service intervals on hydraulic and power train filters reduce service time and maximize uptime. Additional service features include:
Product Link™ PRO standard with a trial subscription to VisionLink®.
Maintenance reminders through touch screen display at scheduled intervals.
Fit for Life Diesel Particulate Filter that is designed to exceed the engine overhaul life.
Quick fuel filter service with Caterpillar's exclusive electric fuel priming pump.
Jump start studs as standard equipment.
Extended cleanouts with single plane cooling system and wide spaced six fins per inch coolers as standard.
Integrated Autolube (optional) with adjustable greasing frequency.
Customer Support
Unmatched service makes the difference.
Renowned Cat Dealer Support
Rely on your Cat dealer to help you every step of the way with new or used machine sales, rental or rebuild options to meet your business needs.
Maximize your machine uptime with unsurpassed worldwide parts availability, trained technicians and customer support agreements.
Let us earn your business. Experience an M Series Small Wheel Loader and join the Caterpillar family.
POWER TRAIN
HYDRAULICS
ELECTRICAL
OPERATOR ENVIRONMENT
OTHER STANDARD EQUIPMENT
EU STANDARD EQUIPMENT