986K Wheel Loader
986K Wheel Loader
Get A Quote
Cat® Large Wheel Loaders are designed with durability built in, ensuring maximum availability through multiple life cycles. With optimized performance and simplified serviceability, our machines allow you to move more material efficiently and safely at a lower cost per ton. The new 986K builds upon this legacy of durability, performance, safety, operator comfort, serviceability and sustainability.
Brakes
Brakes

ISO 3450:2011
Buckets
Bucket Capacities

5-10.3 m3 (6.5-13.5 yd3)
Hydraulic Cycle Time
Rackback

4.5 Seconds

Raise

9 Seconds

Dump

3.5 Seconds

Total Hydraulic Cycle Time

21.3 Seconds

Lower

5.2 Seconds

Lower Float Down

4.3 Seconds
Engine
Net Power

373 hp

Engine Model

Cat® C15 ACERT™

Bore

5.4 in

Stroke

6.75 in

Displacement

927 in3

Torque Rise

16% %

Rated Speed

U.S. EPA Tier 4 Final/EU Stage IV, China Nonroad Stage III, and Brazil MAR-1

EEC 80/1269

449 hp

Gross Power - SAE J1995

456 hp

ISO 9249 at Rated Speed (assumes standard ambient fan)

462 hp

Peak Torque @ 1,200 rpm

1778 lb ft
Operating Specifications
Operating Weight

98806 lb

Bucket Capacity Range

5-10.3 m3 (6.5-13.5 yd3)

Cat Truck Match - Standard

770/735/740/745

Cat Truck Match - High Lift

772/773

Rated Payload - High Lift (Loose Material)

12.1 tons

Rated Payload - Standard (Loose Material)

14 tons

Rated Payload - Standard (Quarry Face)

11 tons
Transmission
Transmission Type

Cat Planetary Power Shift

Forward 1

5 mph

Forward 2

8 mph

Reverse 1

5 mph

Reverse 2

8 mph

Direct Drive - Forward 2

8 mph

Direct Drive - Forward 3

14 mph

Direct Drive - Forward 4

24 mph

Direct Drive - Reverse 2

9 mph

Direct Drive - Reverse 3

16 mph
Service Refill Capacities
Fuel Tank

141 gal

Crankcase

9 gal

Transmission

20 gal

Differentials and Final Drives - Front

49 gal

Differentials and Final Drives - Rear

45 gal

Hydraulic System (tank only)

34 gal

Axle Oil

127 gal

Cooling Systems

26 gal

Hydraulic System Factory Fill

87 gal
Hydraulic System - Steering
Steering System - Circuit

Load Sense

Steering System - Pump

Piston, variable displacement

Max Flow @ 2,284 rpm

52 gal/min

Steering Cutoff Pressure

4000 psi

Total Steering Angle

70° Degrees
Axles
Front

Fixed

Rear

Trunnion

Oscillation Angle

±12.5°
Hydraulic System - Lift/Tilt
Maximum Flow at 2,165 rpm

123 gal/min

Lift/Tilt System - Circuit

Load Sense

Lift/Tilt System - Pump

2 × 110 cc variable displacement

Relief Valve Setting - Lift/Tilt

4050 psi

Lift Cylinder - Bore

7.5 in

Lift Cylinder - Stroke

45 in

Tilt Cylinder - Bore

6.7 in

Tilt Cylinder - Stroke

28.4 in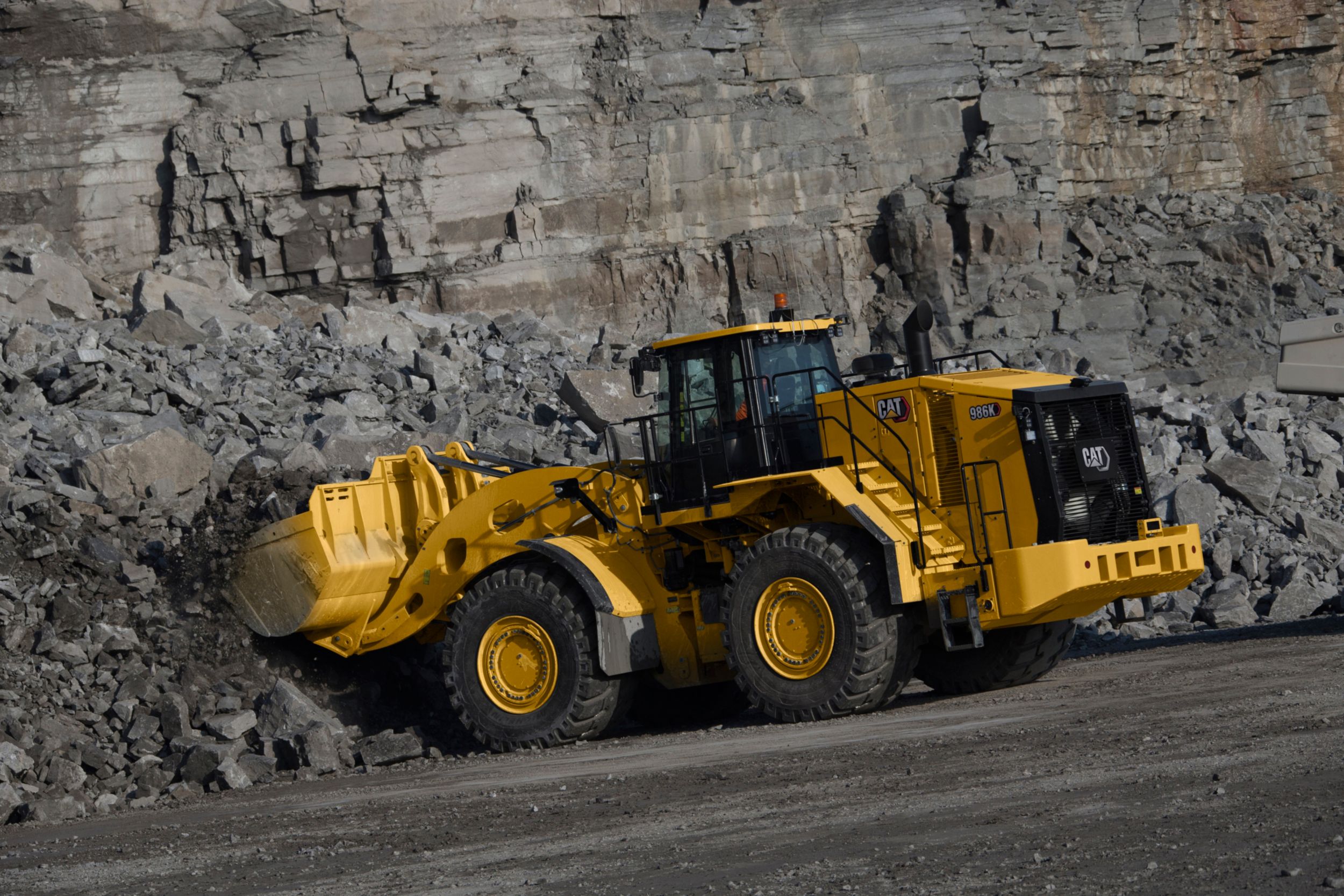 Structures
Best built for the toughest conditions.
Robust Structures
Your bottom line is improved by highly durable structures that achieve multiple life cycles and withstand the toughest loading conditions.
Full box-section rear frame resists torsional shock and twisting forces.
Heavy-duty steering cylinder mounts efficiently transmit loads into the frame.
Cast axle pivot mounting areas better disperse stress loads for increased structural integrity.
Lift Arms
Your key to maximum uptime and productivity is our field-proven lift arms.
Excellent visibility to the bucket edges and work area through a Z-bar design.
High load stresses are absorbed by the solid steel lift arms.
Enhance strength in key pin areas through the use of one piece castings.
Front Linkage
To ensure long life and reliability, the linkage pin joints feature a greased pin design with optional auto lube system.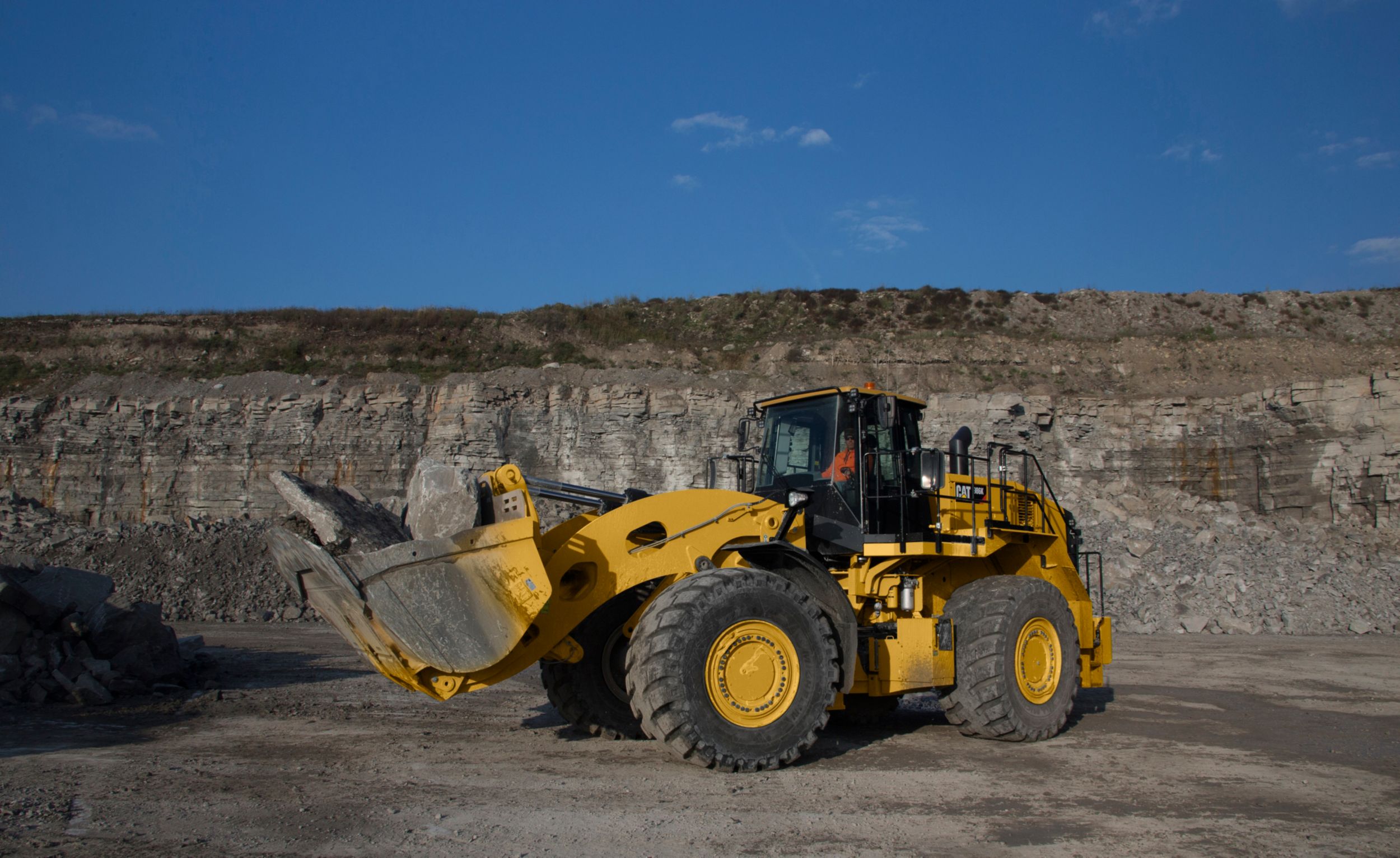 Power Train
Move material more efficiently with improved power and control.
Cat® Planetary Powershift Transmission
Building your success begins with a best-in-class transmission designed specifically for mining applications.
Consistent, smooth shifting and efficiency through integrated electronic controls.
Heat treated gears and shafts extend component life and maximize reliability.
Four forward and four reverse speeds to match your application.
Cat C15 ACERT Engine
Durability and efficiency at the heart of your 986K comes from the Cat® C15 ACERT engine. Optimum performance is built in to this 6 cylinder turbocharged engine.
Meets Tier 4 Final/Stage IV, China Nonroad Stage III, and Brazil MAR-1 emission standards.
Mechanically Actuated Electronic Unit Injection (MEUI™) gives the C15 ACERT complete control over injection timing, duration and pressure.
The Advanced Diesel Engine Management (ADEM™) A4 electronic control module manages fuel delivery to optimize performance and provide quick engine response.
Transmission Neutralizer Pedal
Extends service brake life by neutralizing transmission as service brakes are applied.
Allows full power to implement system while the machine is stationary during truck loading.
Set Point for Neutralization – Start of service brake pressure modulation
Full Pedal Travel – Maximum brake pressure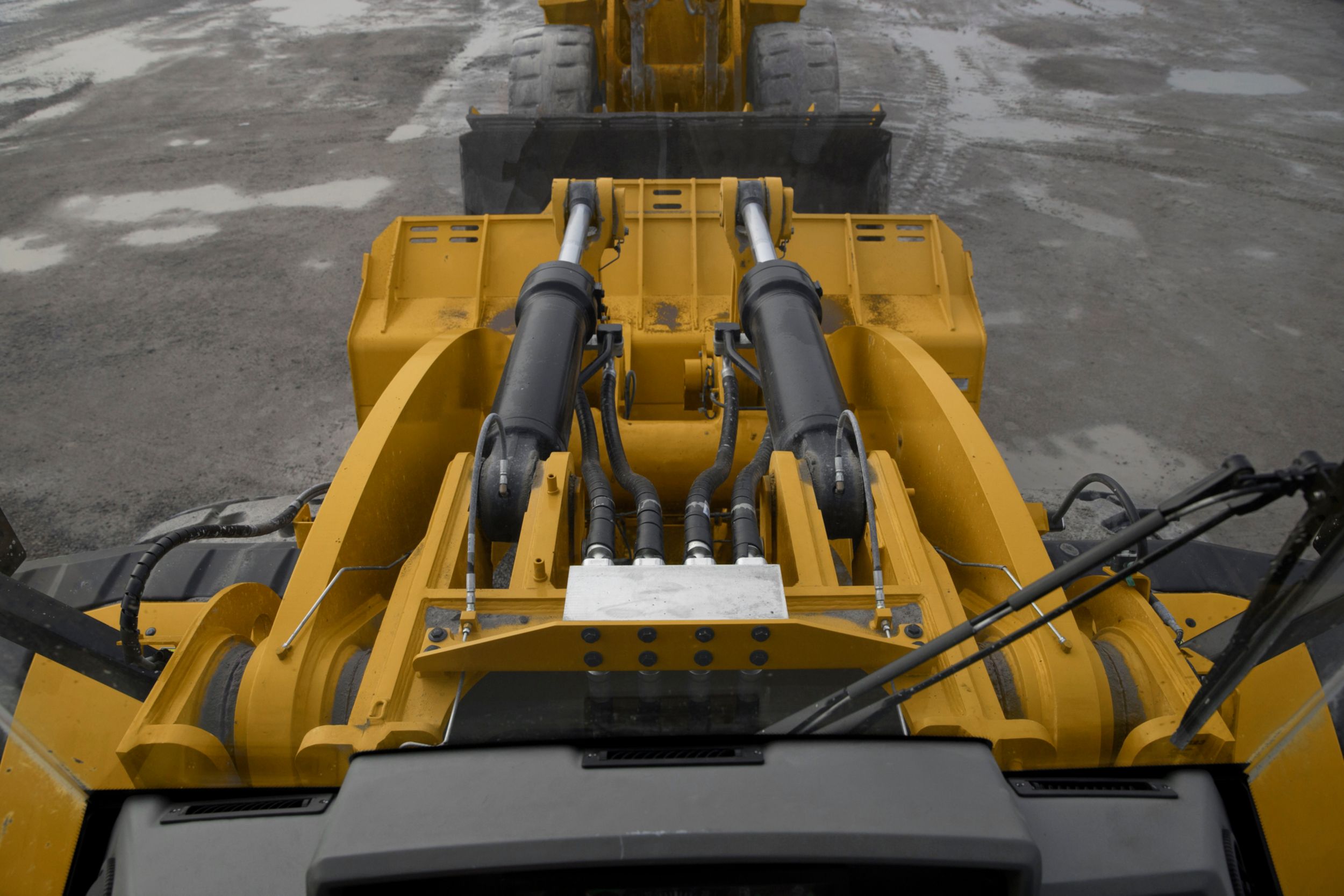 Hydraulics
Productivity enabling you to move more and make more.
Load Sense Hydraulics
Increase efficiency through our Load Sense Hydraulic System. Load sense hydraulics maximize performance by directing hydraulic fluid flow through implement and steering system only when needed.
Lowered fuel consumption.
Consistent performance and efficiency with lower system heat.
Electro Hydraulic Controls
Operators increase productivity with our responsive implements feature.
Operate comfortably through electronically controlled hydraulic cylinder stops.
Handle easy-to-use soft detent controls.
Conveniently set automatic implement kickouts from inside the cab.
Steering System
Confident loader operation starts with precise machine control enabled by the 986K's load sensing hydraulic steering system.
Increase efficiency with our variable displacement piston pumps.
Achieve precise positioning for easy loading in tight areas with 35 degrees of steering articulation.
Enhance operator comfort with integrated steering and transmission control functions.
Filtration System
Benefit from extended performance and reliability of your hydraulic system with our advanced filtration system.
Hydraulic oil cooler return filter.
Pilot filter.
Return and case drain screens inside hydraulic tank.
Axle oil cooler screens if equipped.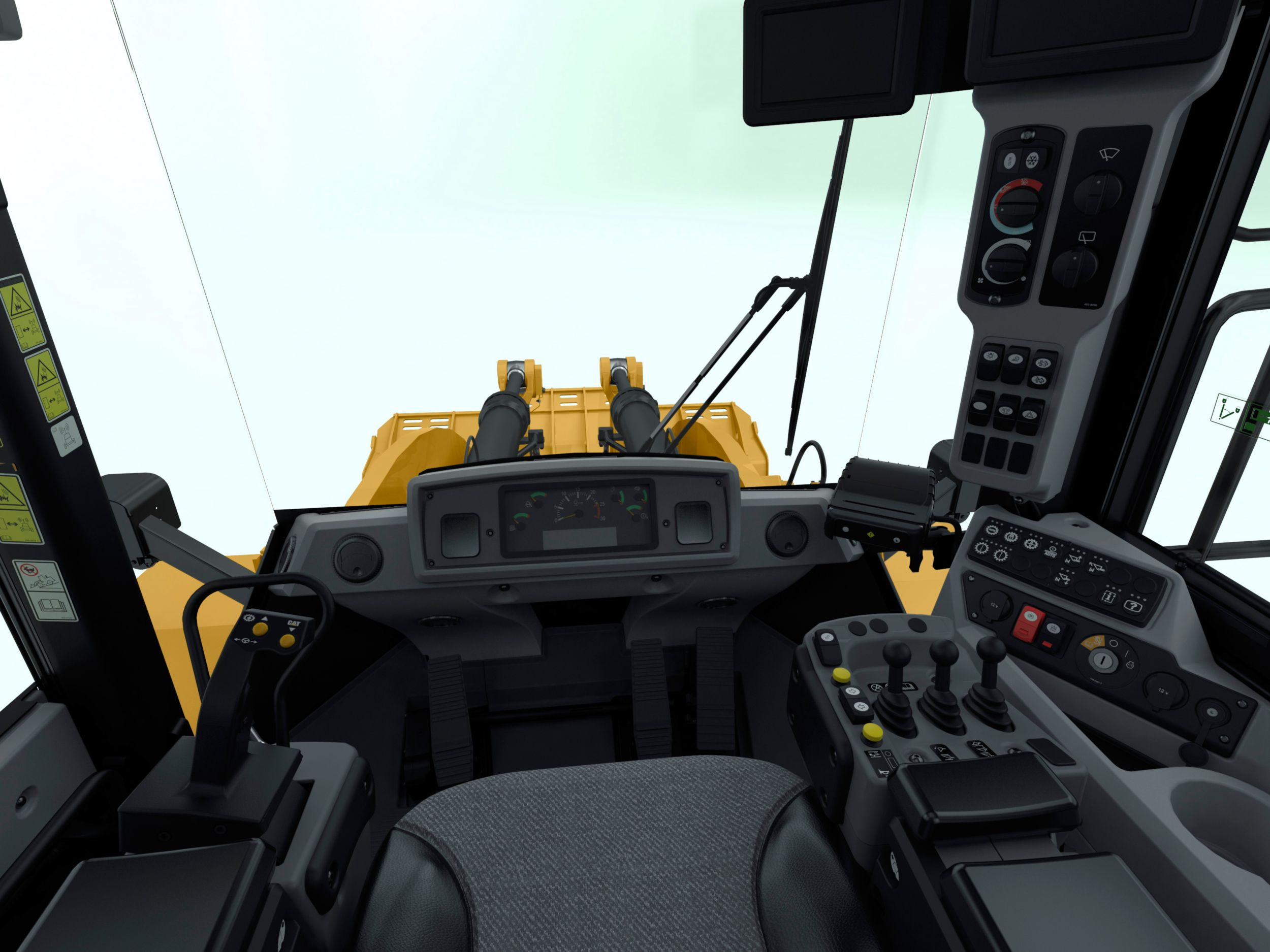 Operator Station
Best-in-Class operator comfort and ergonomics.
Your operators can work more efficiently and stay comfortable with our customer-inspired cab features.
Entry and Exit
Enter and exit the cab easily and safely with these newly designed, ergonomic features.
Fold up STIC™ steer/armrest.
Reduced access stairway angles.
Standard stairway lighting.
Cat Comfort Series III Seat
Enhance comfort and helps reduce operator fatigue with Cat Comfort Series III seat.
Mid back design and extra thick, contoured cushions.
Air suspension system.
Easy-to-reach seat levers and controls for six way adjustments.
Seat-mounted implement pod and STIC steer that moves with the seat.
76 mm (3 in) wide retractable seat belt.
Optional 4-point seat belt.
Control Panel
Ergonomic placement of switches and information display keep your operators comfortable all day every day.
Large backlit membrane switches feature LED activation indicators.
Switches feature ISO symbols for quick function identification.
Two position rocker switch activates the electro hydraulic park brake.
Environment
Your operator's productivity is enhanced with our clean, comfortable cab environment.
Experience reduced vibrations from isolated cab mounts and seat air suspension.
Maintain desired cab temperature with automatic temperature controls.
Pressurized cab with filtered air.
Reduced operator sound levels.
Convenient floor storage tray/lunch box.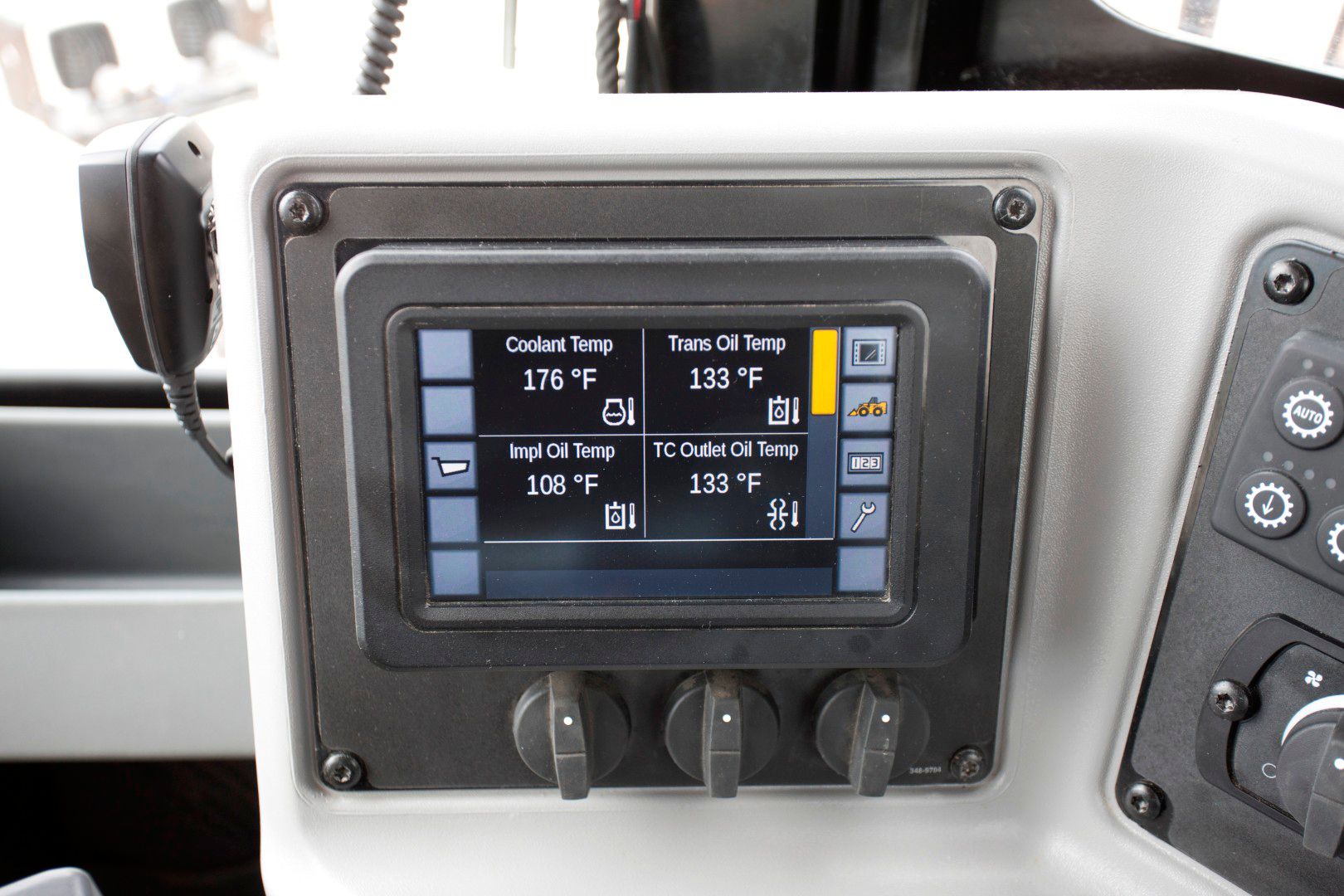 Technology Solutions
Greater productivity through Integrated Electronic Systems.
Integrated electronics provide flexible levels of information to both the site and the operator. This integration creates a smart machine and more informed operator, maximizing the productivity of both.
Information Display
We have worked hard to help our customers and operators perform at their best through our newly upgraded touch screen information display.
Intuitive operation and easy navigation with our enhanced user interface.
Decrease service time by keeping operators informed about machine systems.
Cat Production Measurement
Brings payload weighing to the cab, enabling operators to weight loads on-the-go during loading operations. Loads are weighed as the bucket is raised during the lift cycle – eliminating the need to interrupt the load cycle, improving loading efficiency.
Operators can view load weights on the information display.
Instant feedback gives operators the confidence to work more effectively.
Operators can track recorded weights and cycles using the display.
Cat Product Link™ Elite
Take the guesswork out of asset management with Product Link remote monitoring.
Remote access to information through the easy-to-use VisionLink® interface.
Maximize uptime by staying informed on machine systems and diagnostic codes.
Track machine with utilization, fuel usage, and payload summaries.
Stay up to date on machine location, service meter hours, and reporting status.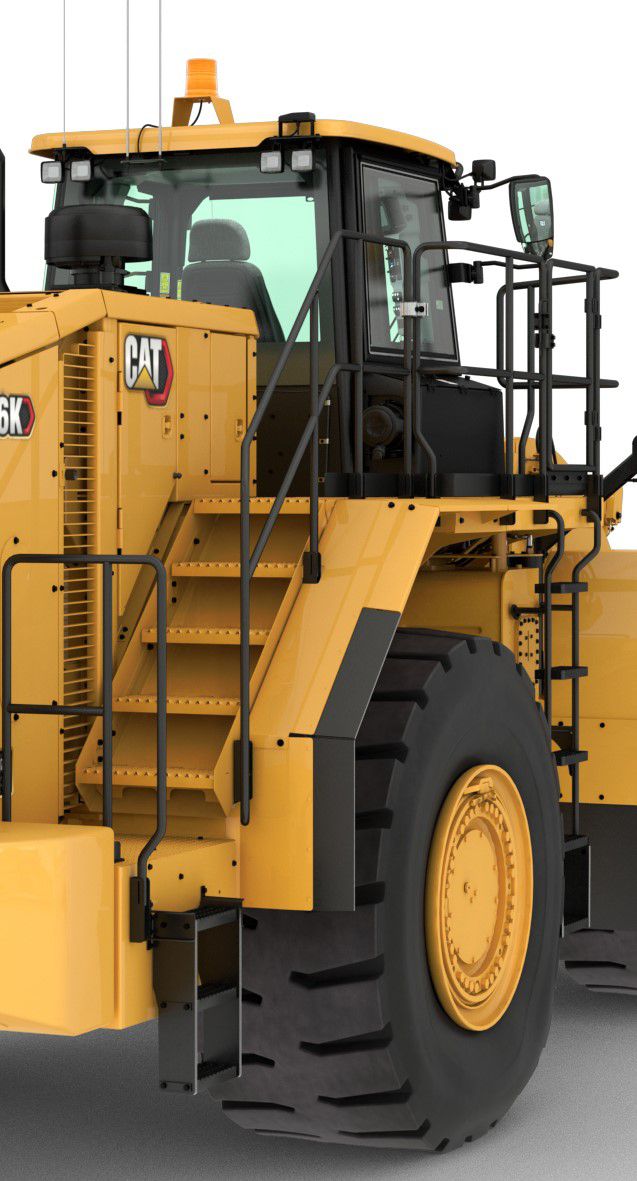 Safety
Making your safety our priority.
We are constantly improving our products in an effort to provide a safe work environment for the operator and those who work on your job site.
Machine Access
Left and right hand stairs with 45 degree angle enhance safety for operators getting on and off the 986K.
Continuous walkway with non-skid surfaces are designed into the service areas.
Maintain three points of contact at all times through ground level or platform accessible service areas.
Visibility
External handrail mounted rearview mirrors ensure enhanced visibility for safe operation.
Cat Vision and optional Cat Detect with radar increase operator awareness around the machine.
Halogen, HID, or LED lights provide excellent workspace visibility.
Cab mounted LED warning beacons.
Operator Environment
Reduced vibrations to the operator with isolated cab mounts and seat mounted implement and steering controls.
Low interior sound levels.
Pressurized cab with filtered air.
Standard 76 mm (3 in) seat belts on the operator seat.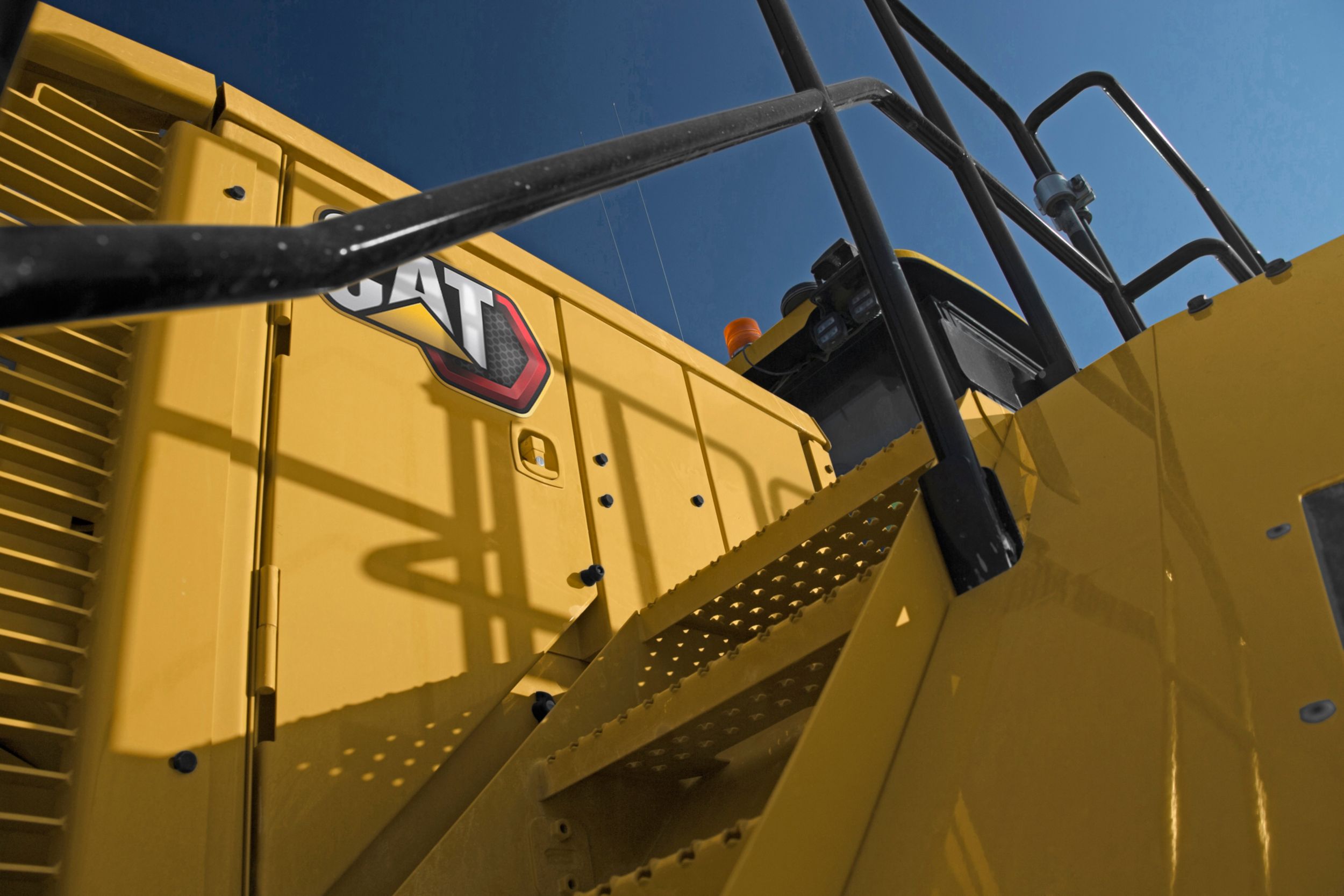 Serviceability
Enabling high uptime by reducing your service time.
We can help you succeed by ensuring your 986K has design features to reduce your downtime.
Longer service intervals on fluids and filters.
Safe and convenient service with ground level or platform access and grouped service points.
Centralized, ground level grease points for injecting grease into linkage pin joints.
Centralized remote pressure taps for power train components.
Ground electrical service center with Jump Start Receptacle, Emergency engine shutdown switch, Battery disconnect switch and Circuit breakers.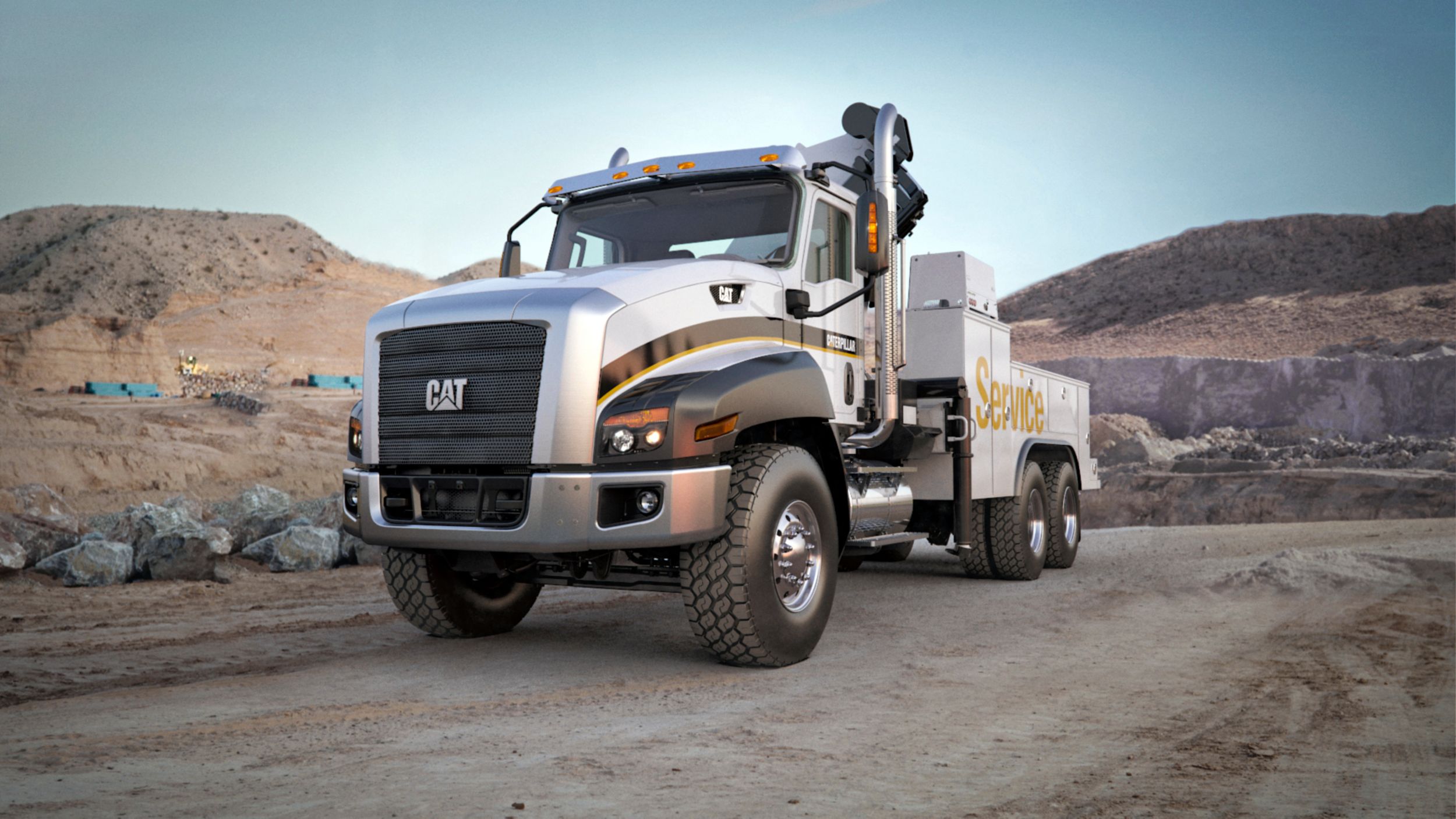 Customer Support
Your Cat dealers know how to keep your mining machines productive.
Legendary Cat Dealer Support
A valued partner, your Cat dealer is available whenever you need them.
Preventive maintenance programs and guaranteed maintenance contracts.
Best-in-class parts availability.
Improve your efficiency with operator training.
Genuine Cat Remanufactured parts.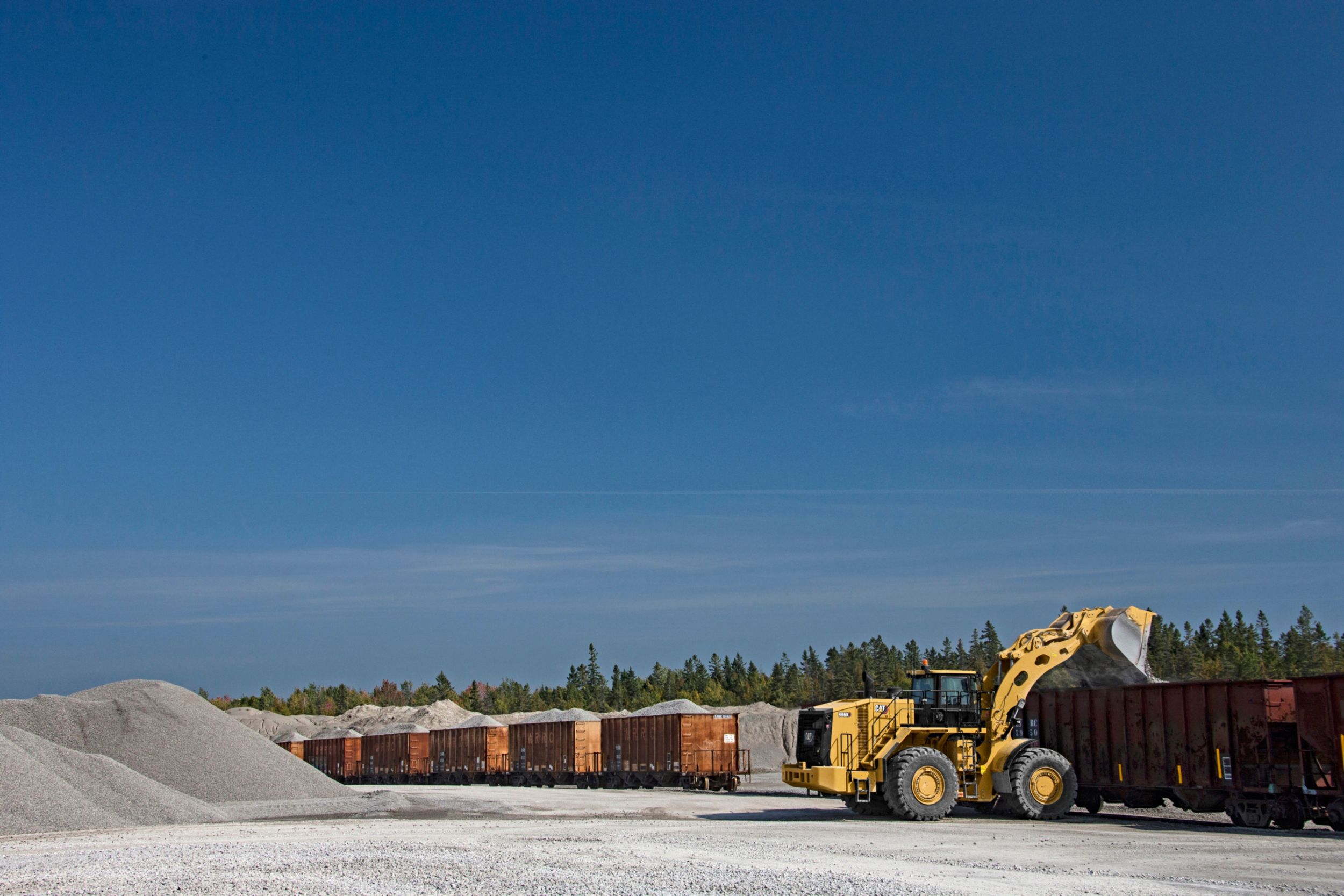 Sustainability
Reducing impact to the environment.
Reducing Impact to the Environment
Sustainability is designed and built into our 986K's features.
Engine Idle Shutdown can help you save fuel by avoiding unnecessary idling.
Reduce waste with our maintenance free or extended maintenance batteries.
To assist with maximizing machine life, Caterpillar provides a number of sustainable options such as our Reman and Certified Rebuild programs. In these programs, reused or remanufactured components can deliver cost savings of 40 to 70 percent, which lowers operating cost while reducing impact to the environment.
Caterpillar offers retrofit packages to bring new features to older machines, maximizing your resource. And, when you go through the Cat Certified Rebuild program, these retrofit kits are part of the rebuild process.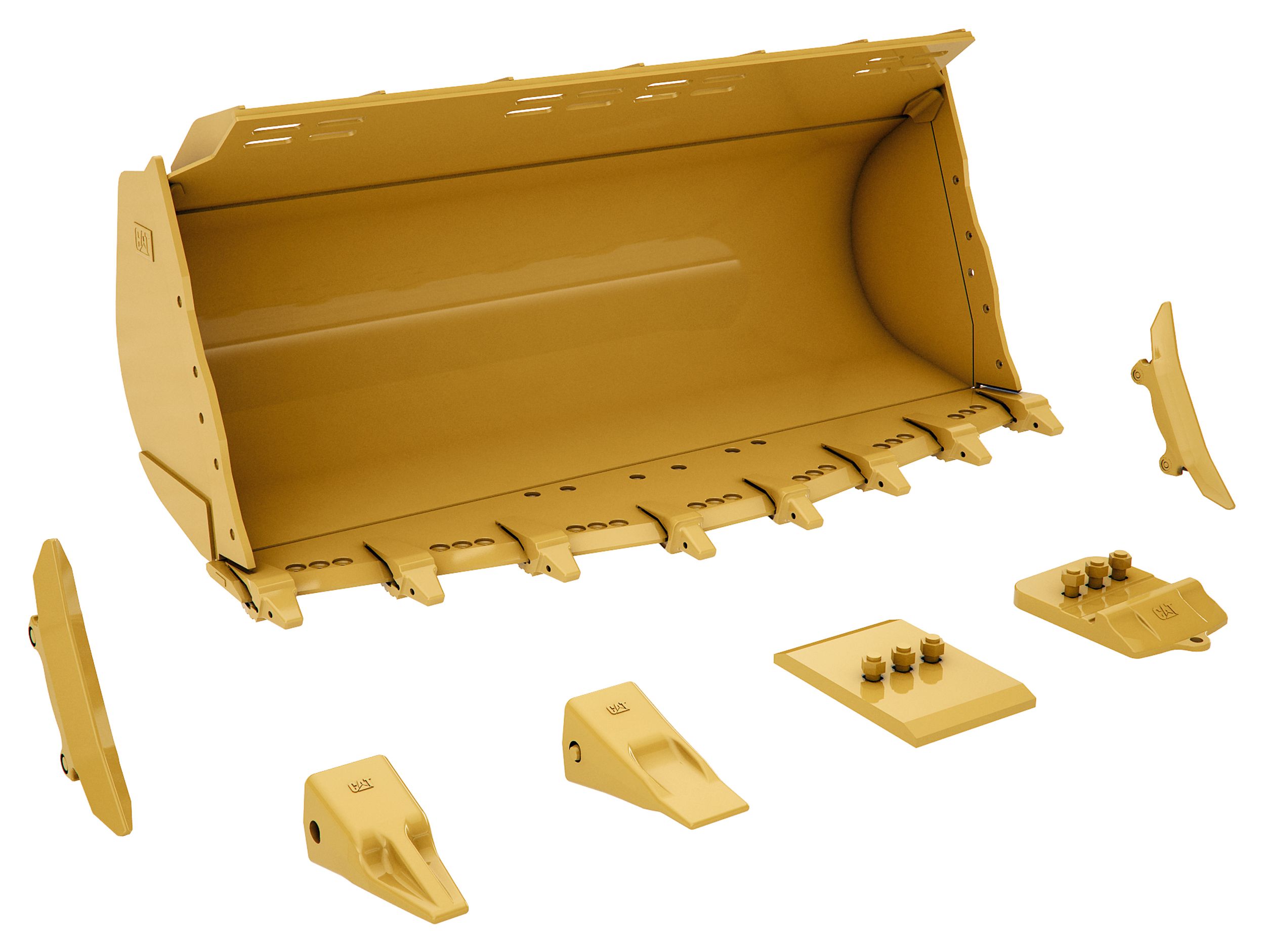 Bucket Ground Engaging Tools
Protect your investment.
Performance Series Buckets
Performance Series Buckets feature an optimized profile maximizing material retention and minimizing dig time, translating into significant productivity and fuel efficiency improvements. All 986K buckets are manufactured with the Performance Series design.
Rock Buckets
Designed for use in bank or face loading of limestone and other unprocessed rock. Application also includes truck and hopper loading for a wide range of quarry materials. GET includes spade nose cutting edge with adapters, half arrow segments, bottom wear plates, and side bar protectors.
Heavy Duty Rock Buckets
Designed for use in applications like face loading tightly compacted pit materials or handling materials of moderate abrasion and high impacts. GET are similar to the rock bucket with the addition of floor liner, half radius liners and bolt-on bottom edge wear plates. 20-series mechanically attached wear plates (MAWPS) are provided for additional wear protection and improved serviceability. Base edge end protection, ski plates, additional side wear plates, wings and an extra set of side bar protectors are also included.
General Purpose Buckets
Designed for use primarily in stockpiling, re-handling and aggregate applications. GET includes a straight base edge with a bolt-on cutting edge system. Curved side bars are provided to aid in material retention.
Coal Buckets
Designed with a larger capacity for use in applications with light density and non-abrasive materials. GET includes a straight base edge with a bolt-on cutting edge system.
GET Options
Multiple GET options are available to customize your 986K to your application, such as:
Sidebar protectors.
General duty and penetration tips.
Standard and half arrow segments.
Enhance the productivity of your loader and protect your investment in buckets with our Ground Engaging Tools (GET). Your knowledgeable Cat dealer will work with you to understand your application and needs for the GET that is best for you. For a full list of Cat GET please visit http://www.cat.com/get.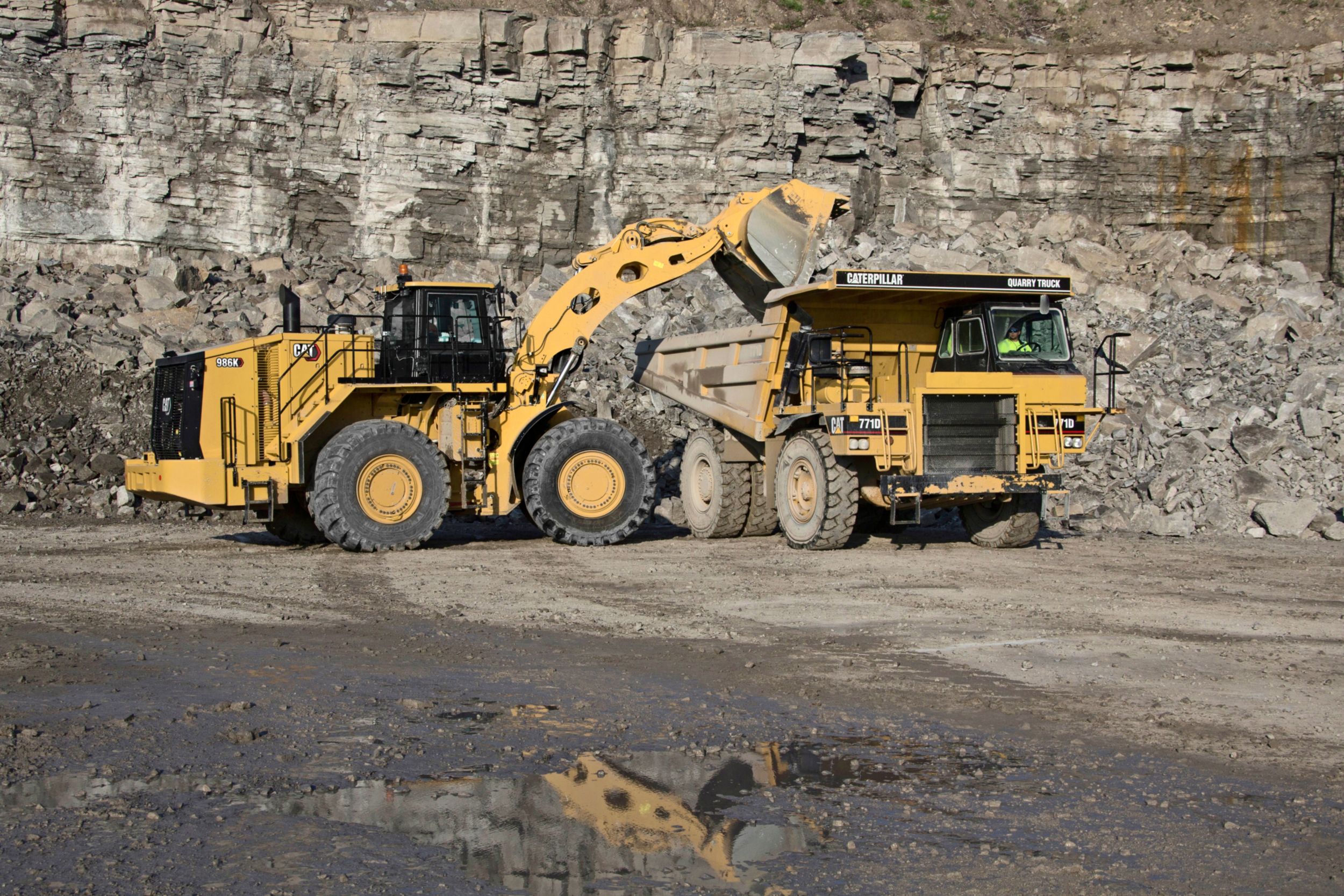 System Match Efficiency
Efficient loading/hauling system starts with a perfect match.
Efficient Combination
For full truck payloads with minimum loading time, an efficient loading/hauling system starts with a perfect match. Cat wheel loaders are matched with Cat articulated and off-highway trucks to maximize volume of material moved at the lowest operating cost per ton.
The 986K equipped with the standard linkage is a perfect four pass match for the 770G (38.6 tonnes/42.6 tons). The 986K equipped with a high lift linkage is capable of loading a 772G (47.7 tonnes/52 tons) in 5 passes and a 773E or 773G (56 tonnes/61.7 tons) in 6 passes.
ELECTRICAL
OPERATOR ENVIRONMENT
POWER TRAIN
OTHER