D3K2 Mulcher
Hydraulic Controls
Pump Output

17.7 gal/min

Relief valve setting

2988 psi
Engine
Engine Model

Cat C4.4 ACERT

Power - Net

104 hp

Displacement

269 in3

ISO 9249

104 hp

EEC 80/1269

104 hp

SAE J1349

Engine meets Tier 4 Final/Stage IV emission standards. hp

Bore

4.13 in

Stroke

5 in
Weights
Operating Weight - XL

23746 lb

Operating Weight - LGP

24698 lb
Undercarriage
Shoe width - XL

16 in

Shoe width - LGP

25 in

Length of track on ground - XL

89 in

Length of track on ground - LGP

89 in

Track gauge - XL

59 in

Track gauge - LGP

68 in

Ground contact area - XL

2829 in2

Ground contact area - LGP

4425 in2

Ground pressure - XL

6.2 psi

Ground pressure - LGP

4.2 psi

Ground contact area - LGP with 770 mm (30 in) shoes

6 in2

Ground pressure - LGP with 770 mm (30 in) shoes

43 psi
Service Refill Capacities
Fuel tank

51.5 gal

Crankcase and filter

2.91 gal

Final drives, XL (each side)

2.6 gal

Final drives, LGP (each side)

2.6 gal

Cooling system

5.92 gal

Transmission/hydraulic tank

15.7 gal
Winch
Weight

1684 lb

Winch Drive

Hydraulic

Control

Hydraulic

Speed

Variable

Rope diameter - recommended

0.5 in

Rope diameter - optional

0.63 in

Drum capacity - recommended cable

279 ft

Drum capacity - optional cable

256 ft

Maximum line pull - bare drum

32150 lb

Maximum line pull - full drum

20000 lb

Maximum line speed - bare drum

50 ft/min

Maximum line speed - full drum

79 ft/min
Transmission
Drive Pumps

1

Track motors

2

Relief valve settings

7033 psi

Maximum travel speed - forward

5.6 mph

Maximum travel speed - reverse

6.2 mph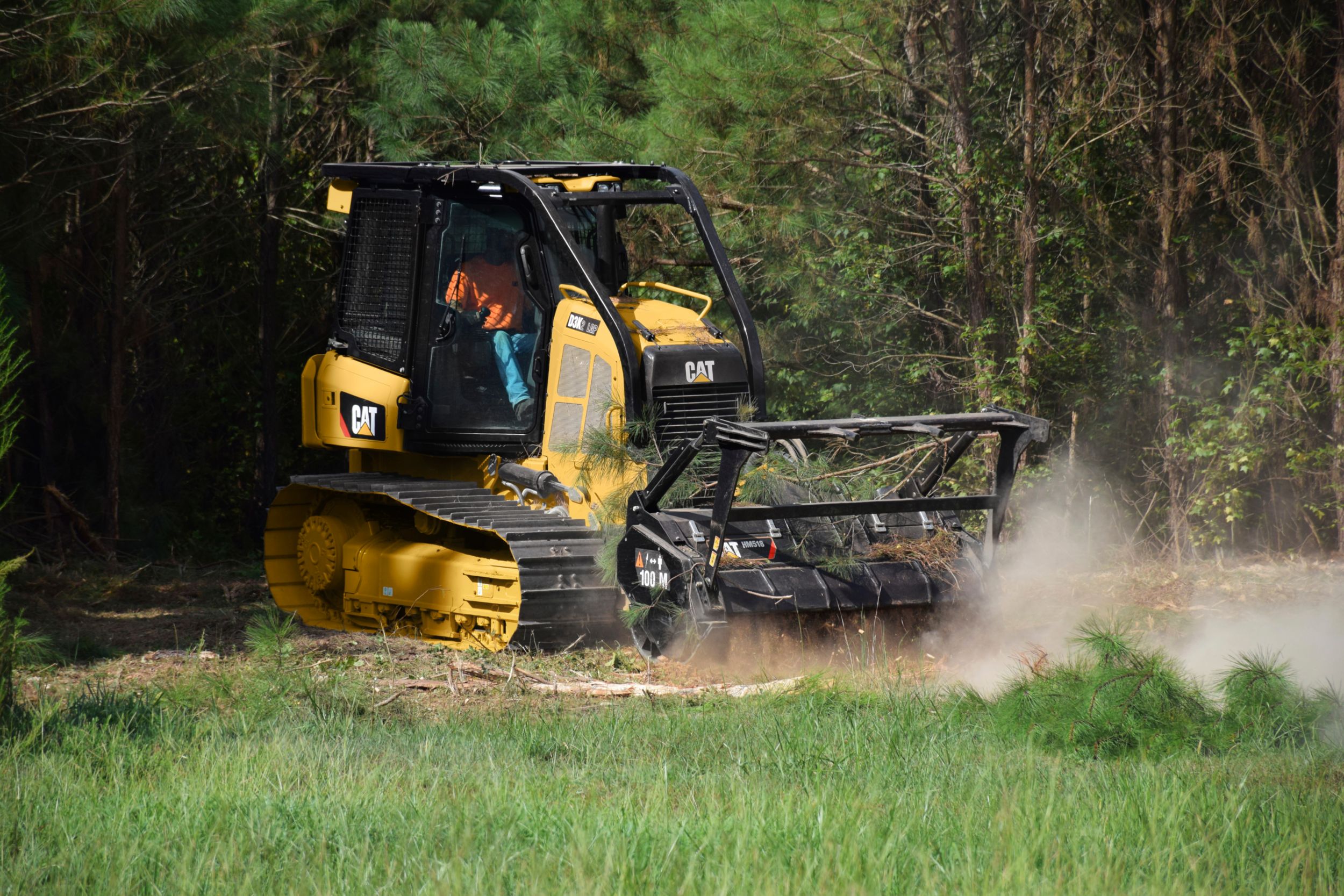 Features:
360° Visibility
Easy viewing of the job site operating area PLUS a rearview camera.
Seat Mounted Controls
Mounted on the air suspension seats, these controls isolate the machine vibration from the operator, reducing operator fatigue.
Pressurized Cab
Heated and air conditioned cab offer comfortable working environment resulting in less operator fatigue and improved productivity.
Hinged Radiator Grill
Allows for easy clean out of radiator without the need for tools.
Tractor Platform
Balanced and rugged for operating in rough terrain and soft underfoot conditions.
Long Life Mulching Head
New Cat® HM518 mulcher frame is designed for longer life using cladding material in high wear areas.
Hydraulically Controlled
Mulcher conveniently operates with a hydraulically operated front door and adjustable push bar.
Closed Loop Hydrostatic Circuit
Delivers efficient, high performance power to the mulcher head.
Reversible Drum
Easier operation and improved productivity.
Drum Speed Bar Indicator
In-cab indicator, aids operator in managing ground speed and overall mulching productivity.
Engine
Cat C4.4 ACERT™ diesel engine meets U.S. EPA Tier 4 Final/EU Stage IV emission standards.
Undercarriage
Cat Sealed and Lubricated Track with 406 mm (16 in) or 635 mm (25 in) track shoes provides superior flotation and stability for wide range of operating conditions.
ELECTRICAL
OPERATOR STATION
MULCHER HYDRAULICS
POWER TRAIN
UNDERCARRIAGE
OTHER STANDARD EQUIPMENT
ANTIFREEZE
GUARDS